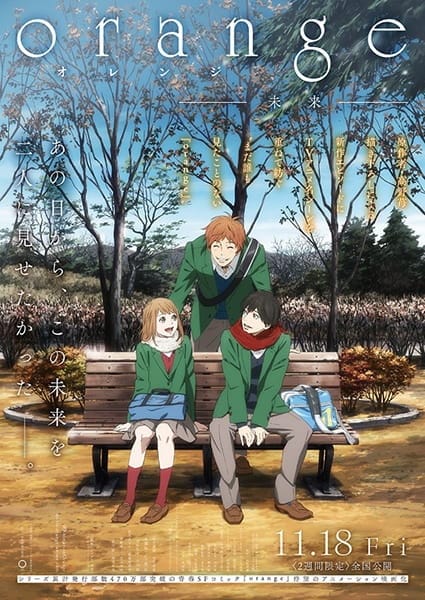 Aired: Nov 18, 2016
Duration: 1 hr. 3 min.
Viewed: 990
Synonyms: Orange: Mirai
Twenty-six-year-old Hiroto Suwa; his wife, Naho; and their old high school classmates—Takako Chino, Azusa Murasaka, and Saku Hagita—visit Mt. Koubou to view the cherry blossoms together. While watching the setting sun, they reminisce about Kakeru Naruse, their friend who died 10 years ago. Mourning for him, they decide to visit Kakeru's old home, where they learn the secret of his death from his grandmother. Filled with regret, Suwa and his friends decide to write letters to their 16-year-old past selves to set their hearts at rest. With the knowledge contained in the letter from his future self, 16-year-old Suwa has the chance to rewrite the future. What choices will he make? What will happen in this new future? [Written by MAL Rewrite]
Because we are making use of some free resources to reduce the main server load, the player can be opened on another domain or showed as a new tab (you have to allow pop-up if you're not using Chrome).