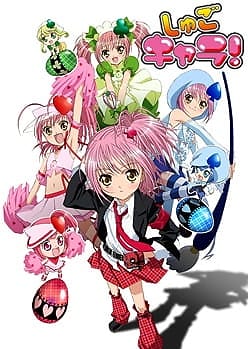 Aired: Oct 6, 2007 to Sep 27, 2008
Duration: 24 min. per ep.
Viewed: 3262
Synonyms: Shugo Chara!
Amu Hinamori is a student at Seiyo Elementary, where she has a reputation for being "cool and spicy"; however, her real personality is that of an extremely shy and easily intimidated girl. One night Amu makes a wish that she would have the courage to be reborn as her "would-be" self. The next morning Amu finds three brightly colored eggs—red, blue, and green—in her bed. Each egg eventually hatches into a Guardian Character: Ran, Miki, and Su. Guardian Characters are angel-like beings that aid a person into becoming their "would-be" selves and fulfill the person's dreams. The Guardian Characters accomplish this by giving encouragement and advice, but they can also temporarily change a person's personality and abilities. With the Guardian Characters, Amu's life becomes much more complex as she now struggles to deal with her new personalities and the Seiyo Elementary Guardians—a student council group where each member has their own Guardian Character—who recruits Amu to search for and seal the X eggs and X Characters, corrupted forms of people's dreams.
Fujisaki, Nagihiko

Main

Ran

Main

Hoshina, Utau

Main

Hotori, Tadase

Main

Mashiro, Rima

Main

Miki

Main

Sanjou, Kairi

Main

Souma, Kuukai

Main

Suu

Main

Tsukiyomi, Ikuto

Main

Yuiki, Yaya

Main

Hinamori, Amu

Main

Snoppe

Supporting

Shuraiya

Supporting

Shouta

Supporting

Shion

Supporting

Sanjou, Yukari

Supporting

Nakagura, Takuya

Supporting

Musashi

Supporting

Zero

Supporting
Because we are making use of some free resources to reduce the main server load, the player can be opened on another domain or showed as a new tab (you have to allow pop-up if you're not using Chrome).