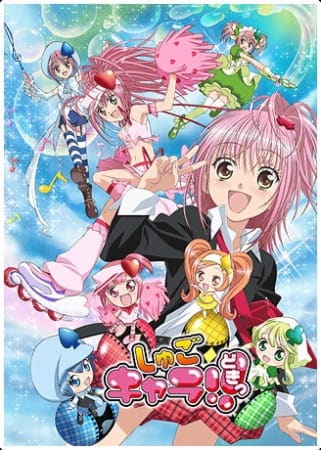 Now Utau has left Easter and restarted her singing career, while Ikuto still remains at Easter. To replace Utau Easter hires a new character, Lulu. Lulu has the power to create question mark eggs, instead of x-eggs. Throughout this season we start to see all the love interests more so then in the first season. Tadase and Amu seem to be a couple now, but they have their problem, especially when Amu starts hiding Ikuto in her room. She lies to Tadase, her family and all the Guardians about it, which in the end causes more problems then she expected. Easter also has a new plan to control Ikuto. Using his violin Easter controls Ikuto so that he transforms into Death Rebel. The sound of his violin turns all the heart eggs with in distance into x-eggs. With a large amount of x-eggs gathered, the embryo will soon turn up. (Source: ANN) Episode numbers continue as 52, 53, 54, etc.
Aired: Oct 4, 2008 to Sep 25, 2009
Duration: 24 min. per ep.
Synonyms: Shugo Chara!! Doki
Hinamori, Amu

Main

Hotori, Tadase

Main

Mashiro, Rima

Main

Miki

Main

Ran

Main

Suu

Main

Tsukiyomi, Ikuto

Main

Yuiki, Yaya

Main

Fujisaki, Nagihiko

Main

Musashi

Supporting

Pepe

Supporting

Nana

Supporting

Mizutani, Hinako

Supporting

Yoru

Supporting

Morino, Mimori

Supporting

Nemi

Supporting

Nikaidou, Yuu

Supporting

Ninagawa, Hitomi

Supporting

Nishino, Natsuko

Supporting

Mizuno, Mamoru

Supporting
Because we are making use of some free resources to reduce the main server load, the player can be opened on another domain or showed as a new tab (you have to allow pop-up if you're not using Chrome).