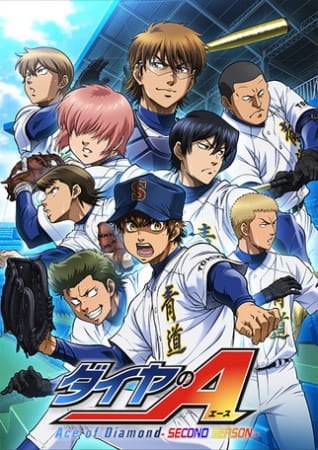 Aired: Apr 6, 2015 to Mar 28, 2016
Duration: 24 min. per ep.
Viewed: 96
Synonyms: Diamond no Ace: Second Season
After the National Tournament, the Seidou High baseball team moves forward with uncertainty as the Fall season quickly approaches. In an attempt to build a stronger team centered around their new captain, fresh faces join the starting roster for the very first time. Previous losses weigh heavily on the minds of the veteran players as they continue their rigorous training, preparing for what will inevitably be their toughest season yet. Rivals both new and old stand in their path as Seidou once again climbs their way toward the top, one game at a time. Needed now more than ever before, Furuya and Eijun must be determined to pitch with all their skill and strength in order to lead their team to victory. And this time, one of these young pitchers may finally claim that coveted title: "The Ace of Seidou." [Written by MAL Rewrite]
Kominato, Haruichi

Main

Miyuki, Kazuya

Main

Sawamura, Eijun

Main

Furuya, Satoru

Main

Okumura, Koushuu

Supporting

Shirasu, Kenjirou

Supporting

Ogata, Kazunari

Supporting

Ochiai, Hiromitsu

Supporting

Natsukawa, Yui

Supporting

Yuuki, Tetsuya

Supporting

Ogawa, Tsunematsu

Supporting

Oowada, Akiko

Supporting

Saitou, Hiromi

Supporting

Sakai, Ichirou

Supporting

Sakaki, Eijirou

Supporting

Sanada, Shunpei

Supporting

Seki, Naomichi

Supporting

Seto, Takuma

Supporting

Shirakawa, Katsuyuki

Supporting

Narumiya, Mei

Supporting
Because we are making use of some free resources to reduce the main server load, the player can be opened on another domain or showed as a new tab (you have to allow pop-up if you're not using Chrome).