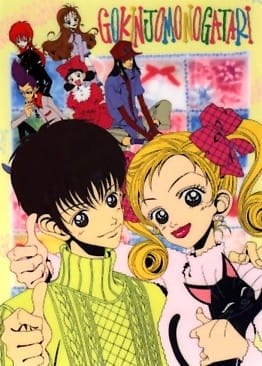 Aired: Sep 10, 1995 to Sep 1, 1996
Duration: 25 min. per ep.
Viewed: 23
Synonyms: Gokinjo Monogatari
The protagonist, Kouda Mikako, is a student of "Yaza Gaku". Specialising in fashion design, Mikako dreams of becoming a fashion designer with her own brand. Living next to her is her childhood friend, Yamaguchi Tsutomu. Even though they have been close since they were young, they share a platonic friendship. However, Tsutomu has been gaining popularity, especially with the girls, because he seems to resemble a popular vocalist from a band and somehow, Mikako begins to see him in a different light. This is a story about how youths cope with dreams, love and friendship. (Source: ANN)
Kouda, Mikako

Main

Yamaguchi, Tsutomu

Main

Kanzaki, Risa

Supporting

Kouda, Ruriko

Supporting

Nakasu, Shintaro

Supporting

Nakasu, Mariko

Supporting

Nishino, Jiro

Supporting

Oikawa, Ayumi

Supporting

Oota, Mai

Supporting

Saejima, Midori

Supporting

Sudou, Akira

Supporting

Sunami, Noriji

Supporting

Tashiro, Yuusuke

Supporting
Because we are making use of some free resources to reduce the main server load, the player can be opened on another domain or showed as a new tab (you have to allow pop-up if you're not using Chrome).