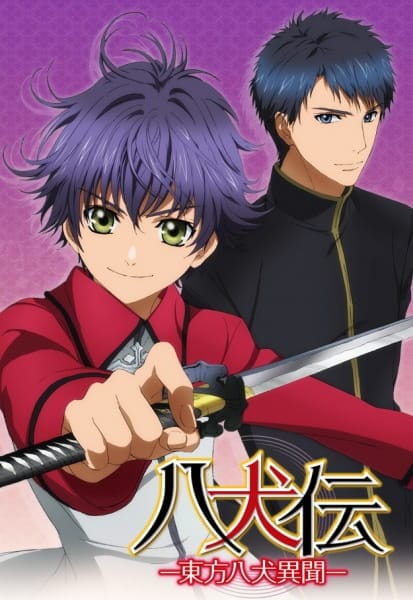 Aired: Jan 6, 2013 to Mar 31, 2013
Duration: 24 min. per ep.
Viewed: 1332
Synonyms: Hakkenden: Touhou Hakken Ibun
The village of Ootsuka—home to Shino Inuzuka, Sousuke Inukawa, and Hamaji—was lit on fire under the preconception that a virus had seen all of its life eradicated. Now surrounded by flames and on the verge of death, the three were approached by a strange man holding a sword. He tells them that they must reach a decision if they want to live. That night changed everything for these children. Five years later, the family of three now lives under the watchful eye of the small Imperial Church in a nearby village. All is fine and dandy until the Church attempts to reclaim the demonic sword of Murasame. To accomplish this, they kidnap Hamaji to lure Shino, now a bearer of Murasame's soul, and Sousuke, who possesses the ability to transform into a dog. The brothers must put their differences aside to rescue their beloved sister from the Church in the Imperial Capital, signalling the beginning of a very difficult journey.
Inukai, Genpachi

Main

Inukawa, Sousuke

Main

Inuta, Kobungo

Main

Inuzuka, Shino

Main

Murasame

Main

Hamaji

Main

Mizuki, Ayane

Supporting

Yukihime

Supporting

Myoukou

Supporting

Ogiwara, Father

Supporting

Ogiwara, Kenta

Supporting

Ogiwara, Mother

Supporting

Osaki, Kaname

Supporting

Rou Shinpu

Supporting

Saiki, Akane

Supporting

Sakuraba, Jouji

Supporting

Sarugami

Supporting

Satomi, Riou

Supporting

Seiran

Supporting

Shinpu

Supporting
Because we are making use of some free resources to reduce the main server load, the player can be opened on another domain or showed as a new tab (you have to allow pop-up if you're not using Chrome).