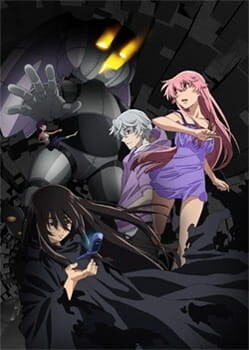 Aired: Jun 19, 2013
Duration: 29 min.
Viewed: 38
Synonyms: Mirai Nikki Redial: Data Ikou
Yuno Gasai lives a normal life as a first-year in high school. She gets along well with her parents and even has a small circle of friends. However, she cannot help but feel as if someone is missing from her life, someone so important to her that it was as if she had lived another life trying desperately to stay with them. After a class trip to the beach, Yuno returns home; but in the middle of the night, she receives strange messages from a voice only she can hear. The voice informs her of the person she is desperate to meet and that she must find him. Soon, she finds herself in a mysterious realm, her only goal being reunited with the person she cannot remember. Though obstacles stand in her way, Yuno will stop at nothing to meet her beloved once again. [Written by MAL Rewrite]
Gasai, Yuno

Main

Akise, Aru

Supporting

Amano, Yukiteru

Supporting

Bacchus, John

Supporting

Deus Ex Machina

Supporting

Hino, Hinata

Supporting

Hirasaka, Yomotsu

Supporting

Houjou, Reisuke

Supporting

Kasugano, Tsubaki

Supporting

Kousaka, Ouji

Supporting

Kurusu, Keigo

Supporting

Mikami, Ai

Supporting

Miyashiro, Orin

Supporting

Mur Mur

Supporting

Nonosaka, Mao

Supporting

Uryuu, Minene

Supporting
Because we are making use of some free resources to reduce the main server load, the player can be opened on another domain or showed as a new tab (you have to allow pop-up if you're not using Chrome).