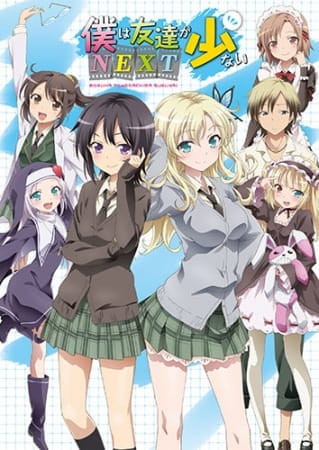 Aired: Jan 11, 2013 to Mar 29, 2013
Duration: 24 min. per ep.
Viewed: 15
Synonyms: Boku wa Tomodachi ga Sukunai Next
The Neighbor's Club—a club founded for the purpose of making friends, where misfortunate boys and girls with few friends live out their regrettable lives. Although Yozora Mikazuki faced a certain incident at the end of summer, the daily life of the Neighbor's Club goes on as usual. A strange nun, members of the student council and other new faces make an appearance, causing Kodaka Hasegawa's life to grow even busier. While they all enjoy going to the amusement park, playing games, celebrating birthdays, and challenging the "school festival"—a symbol of the school life normal people live—the relations amongst the members slowly begins to change... Let the next stage begin, on this unfortunate coming-of-age love comedy!! (Source: ANN)
Kashiwazaki, Sena

Main

Mikazuki, Yozora

Main

Shiguma, Rika

Main

Hasegawa, Kodaka

Main

Yusa, Aoi

Supporting

van Dracula Shikabane, Lace

Supporting

Takeo

Supporting

Takayama, Maria

Supporting

Takayama, Kate

Supporting

Redfield, Stella

Supporting

Miki

Supporting

Kusunoki, Yukimura

Supporting

Kusakabe, Fumio

Supporting

Kashiwazaki, Pegasus

Supporting

Hidaka, Hinata

Supporting

Hasegawa, Kobato

Supporting

Hasegawa, Hayato

Supporting

Haruko

Supporting

Fujioka, Koyomi

Supporting

Banfield, Guernica

Supporting
Because we are making use of some free resources to reduce the main server load, the player can be opened on another domain or showed as a new tab (you have to allow pop-up if you're not using Chrome).