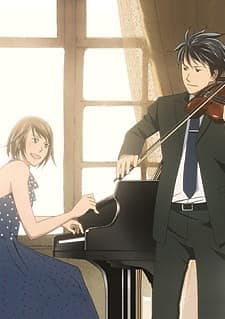 Aired: Jan 12, 2007 to Jun 15, 2007
Duration: 22 min. per ep.
Viewed: 912
Synonyms: Nodame Cantabile
Shinichi Chiaki is a first class musician whose dream is to play among the elites in Europe. Coming from a distinguished family, he is an infamous perfectionist—not only is he highly critical of himself, but of others as well. The only thing stopping Shinichi from leaving for Europe is his fear of flying. As a result, he's grounded in Japan. During his fourth year at Japan's top music university, Shinichi happens to meet Megumi Noda or, as she refers to herself, Nodame. On the surface, she seems to be an unkempt girl with no direction in life. However, when Shinichi hears Nodame play the piano for the first time, he is in awe of the kind of music she creates. Nevertheless, Shinichi is dismayed to discover that Nodame is his neighbor, and worse, she ends up falling head over heels in love with him. [Written by MAL Rewrite]
Noda, Megumi

Main

Chiaki, Shinichi

Main

Viella, Sebastiano

Supporting

Tanaka, Makiko

Supporting

Takahashi, Noriyuki

Supporting

Tagaya, Saiko

Supporting

Stresemann, Franz von

Supporting

Sakuma, Manabu

Supporting

Saku, Sakura

Supporting

Saganuma, Saya

Supporting

Oliver

Supporting

Okuyama, Masumi

Supporting

Noda, Yoshitaka

Supporting

Nakamura, Midori

Supporting

Miyoshi, Seiko

Supporting

Miyoshi, Takehiko

Supporting

Miyoshi, Yuiko

Supporting

Miyoshi, Toshihiko

Supporting

Mine, Ryuutarou

Supporting

Miki, Kiyora

Supporting
Because we are making use of some free resources to reduce the main server load, the player can be opened on another domain or showed as a new tab (you have to allow pop-up if you're not using Chrome).