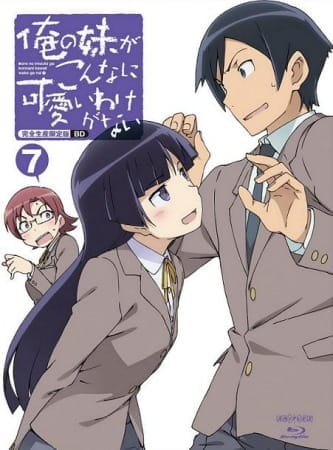 Aired: Feb 22, 2011 to May 31, 2011
Duration: 28 min. per ep.
Viewed: 25
Synonyms: Ore no Imouto ga Konnani Kawaii Wake ga Nai Specials
The true end arc of Ore no Imouto. These four episodes branch out after the 11th episode of the main TV series and present an alternative version to the end of the TV series. These episodes contrast with the good end arc of the TV series, which was an original ending written for the anime, and instead closely follows the original story from the light novels.
Gokou, Ruri

Main

Kousaka, Kyousuke

Main

Akagi, Sena

Supporting

Akagi, Kouhei

Supporting

Aragaki, Ayase

Supporting

Hagry, Ria

Supporting

Hoshino, Kurara

Supporting

Kousaka, Kirino

Supporting

Kousaka, Yoshino

Supporting

Kousaka, Daisuke

Supporting

Kurusu, Kanako

Supporting

Makabe, Kaede

Supporting

Makishima, Saori

Supporting

Miura, Gennosuke

Supporting

Tamura, Manami

Supporting
Because we are making use of some free resources to reduce the main server load, the player can be opened on another domain or showed as a new tab (you have to allow pop-up if you're not using Chrome).