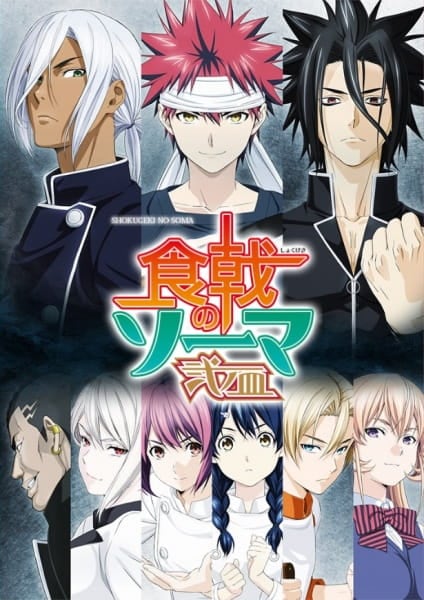 Aired: Jul 2, 2016 to Sep 24, 2016
Duration: 24 min. per ep.
Viewed: 88
Synonyms: Shokugeki no Souma: Ni no Sara
The qualifiers of the Autumn Elections are now over, and only eight talented chefs remain. Now, they face off in one-on-one food wars, each with their own unique themes. Met with both new judges and new opponents all with their own specialties, Souma must stay on his toes if he hopes to make it to the top of both the Autumn Elections and Tootsuki Culinary Academy. [Written by MAL Rewrite]
Tadokoro, Megumi

Main

Yukihira, Souma

Main

Nakiri, Erina

Main

Tsunozaki, Taki

Supporting

Kurokiba, Ryou

Supporting

Shiomi, Jun

Supporting

Tadokoro, Mother

Supporting

Soutsuda, Mitsuru

Supporting

Tomita, Yuuya

Supporting

Sakaki, Ryouko

Supporting

Sadatsuka, Nao

Supporting

Ooizumi, Kakinoshin

Supporting

Nakiri, Leonora

Supporting

Nakiri, Senzaemon

Supporting

Nakiri, Alice

Supporting

Mizuhara, Fuyumi

Supporting

Mito, Ikumi

Supporting

Mimasaka, Subaru

Supporting

Marui, Zenji

Supporting

Yukihira, Jouichirou

Supporting
Because we are making use of some free resources to reduce the main server load, the player can be opened on another domain or showed as a new tab (you have to allow pop-up if you're not using Chrome).