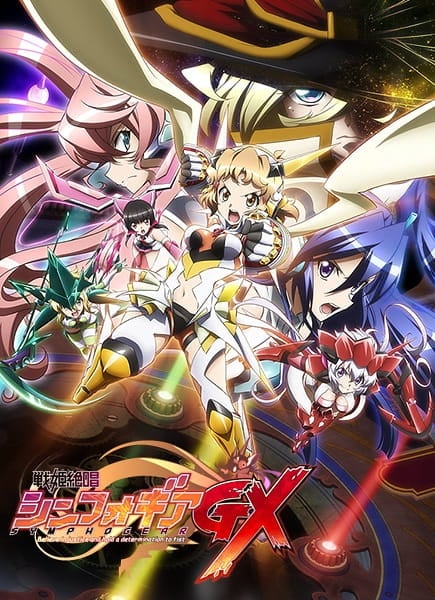 Aired: Jul 4, 2015 to Sep 26, 2015
Duration: 23 min. per ep.
Viewed: 35
Synonyms: Senki Zesshou Symphogear GX: Believe in Justice and Hold a Determination to Fist.
Following the events of Senki Zesshou Symphogear G, Hibiki Tachibana, Tsubasa Kazanari, and Chris Yukine continue to operate under the command of Genjuurou Kazanari. Meanwhile, Maria Cadenzavna Eve, Kirika Akatsuki, and Shirabe Tsukuyomi are taken into protective custody. With peace restored, everyone returns to their daily lives; however, the appearance of the alchemist Carol Malus Dienheim and her subordinates—the "Autoscorers"—threatens to draw everyone back into a conflict. Armed with a strange and magical power, Carol wishes to initiate the apocalypse and bring destruction to the world... and she is willing to sacrifice everything to do so. Against this mysterious new foe, the six Symphogear wielders must rise to the challenge in order to protect what they hold dear. However, will Carol and her Autoscorers prove to be too much to handle in this fight to protect the fate of the world? [Written by MAL Rewrite]
Cadenzavna Eve, Maria

Main

Kazanari, Tsubasa

Main

Tachibana, Hibiki

Main

Tsukuyomi, Shirabe

Main

Yukine, Chris

Main

Akatsuki, Kirika

Main

Malus Dienheim, Izak

Supporting

Vercingetorix, John Wayne

Supporting

Ogawa, Shinji

Supporting

Shibata, Masahito

Supporting

Suyûf, Phara

Supporting

Tachibana, Grandmother

Supporting

Tachibana, Mother

Supporting

Tachibana, Akira

Supporting

Terashima, Shiori

Supporting

Tolstaya, Nastassja

Supporting

Tomosato, Aoi

Supporting

Tûmân, Garie

Supporting

Malus Dienheim, Carol

Supporting

Kohinata, Miku

Supporting
Because we are making use of some free resources to reduce the main server load, the player can be opened on another domain or showed as a new tab (you have to allow pop-up if you're not using Chrome).