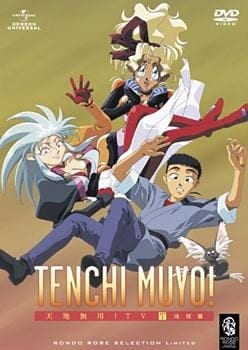 Aired: Apr 2, 1995 to Sep 24, 1995
Duration: 23 min. per ep.
Viewed: 12
Synonyms: Tenchi Universe
Tenchi Masaki's life changes forever when the ship of an infamous space pirate, Ryouko Hakubi, is shot down and crashes near his family's temple. Little did Tenchi know that by saving Ryouko, he would spark a series of events that would lead alien women from all walks of life to inhabit his home. This includes the delicate Princess Aeka of Jurai and her playful younger sister Princess Sasami; the scatterbrained first-class detective Mihoshi Kuramitsu and her more capable partner Kiyone Makibi; and the eccentric, mad scientist Washuu Hakubi. The six women do their best to adapt to their new lives, but their more advanced and exotic lifestyle does not mesh well with the simplistic customs on Earth. As a result, they just end up making a mess and causing trouble for poor Tenchi. Though the girls are a pain, Tenchi begins to form a close relationship with each of them, and through their bond, he begins to gain a better understanding of his role in the universe. [Written by MAL Rewrite]
Hakubi, Washuu

Main

Hakubi, Ryouko

Main

Kuramitsu, Mihoshi

Main

Makibi, Kiyone

Main

Masaki, Aeka Jurai

Main

Masaki, Sasami Jurai

Main

Masaki, Tenchi

Main

Azaka

Supporting

Jurai, Kagato

Supporting

Ken-Ohki

Supporting

Masaki, Nobuyuki

Supporting

Masaki, Katsuhito

Supporting

Mitsuki

Supporting

Nagi

Supporting

Ryou-Ouki

Supporting
Because we are making use of some free resources to reduce the main server load, the player can be opened on another domain or showed as a new tab (you have to allow pop-up if you're not using Chrome).