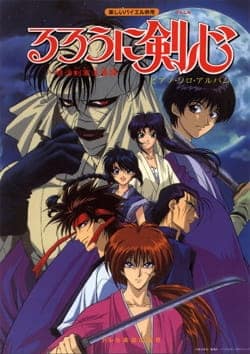 Aired: Jan 10, 1996 to Sep 8, 1998
Duration: 25 min. per ep.
Viewed: 1334
Synonyms: Rurouni Kenshin
In the final years of the Bakumatsu era lived a legendary assassin known as Hitokiri Battousai. Feared as a merciless killer, he was unmatched throughout the country, but mysteriously disappeared at the peak of the Japanese Revolution. It has been ten peaceful years since then, but the very mention of Battousai still strikes terror into the hearts of war veterans. Unbeknownst to them, Battousai has abandoned his bloodstained lifestyle in an effort to repent for his sins, now living as Kenshin Himura, a wandering swordsman with a cheerful attitude and a strong will. Vowing never to kill again, Kenshin dedicates himself to protecting the weak. One day, he stumbles across Kaoru Kamiya at her kendo dojo, which is being threatened by an impostor claiming to be Battousai. After receiving help from Kenshin, Kaoru allows him to stay at the dojo, and so the former assassin temporarily ceases his travels. Rurouni Kenshin: Meiji Kenkaku Romantan tells the story of Kenshin as he strives to save those in need of saving. However, as enemies from both past and present begin to emerge, will the reformed killer be able to uphold his new ideals? [Written by MAL Rewrite]
Kamiya, Kaoru

Main

Myoujin, Yahiko

Main

Sagara, Sanosuke

Main

Himura, Kenshin

Main

Sagara, Souzou

Supporting

Senkaku

Supporting

Sadojima, Houji

Supporting

Reisui

Supporting

Raikou

Supporting

Oumime

Supporting

Yuukyuuzan, Anji

Supporting

Ren

Supporting

Saizuchi

Supporting

Sakaki, Touma

Supporting

Sakata

Supporting

Sanjou, Tsubame

Supporting

Sawagejou, Chou

Supporting

Sekihara, Sae

Supporting

Sekihara, Tae

Supporting

Ookuma, Daigorou

Supporting
Because we are making use of some free resources to reduce the main server load, the player can be opened on another domain or showed as a new tab (you have to allow pop-up if you're not using Chrome).