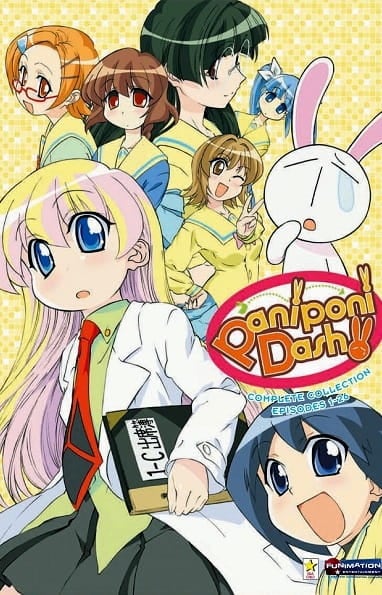 Aired: Jul 4, 2005 to Dec 26, 2005
Duration: 24 min. per ep.
Viewed: 142
Synonyms: Pani Poni Dash
The 11-year-old Miyamoto Rebecca becomes the new teacher of a classroom which is full of weirdos. Despite her cute looks she's a little beast and can be pretty sarcastic and offensive. The school is not safe anymore now that she's in charge of a class and her students, Himeko, Ichijou, Rei and a white rabbit who took a liking to Rebecca help her to rough up the school and the neighbor with its teacher "ojii-chan." (Source: ANN)
Katagiri, Himeko

Main

Miyamoto, Rebecca

Main

Momose, Kurumi

Main

Suzuki, Sayaka

Main

Tachibana, Rei

Main

Uehara, Miyako

Main

Ichijou

Main

Michael

Supporting

Zula

Supporting

Miyata, Akira

Supporting

Momose, Shuu

Supporting

Nanjou, Misao

Supporting

Nekogami-sama

Supporting

Saotome

Supporting

Satou, Chika

Supporting

Serizawa, Akane

Supporting

Shiratori, Suzune

Supporting

Taeko

Supporting

Watanuki, Hibiki

Supporting

Yankee

Supporting
Because we are making use of some free resources to reduce the main server load, the player can be opened on another domain or showed as a new tab (you have to allow pop-up if you're not using Chrome).