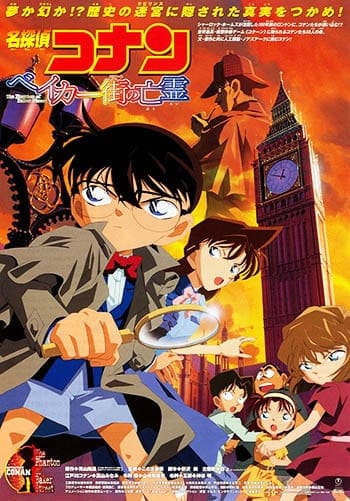 Aired: Apr 20, 2002
Duration: 1 hr. 47 min.
Viewed: 19
Synonyms: Detective Conan Movie 6 – The Phantom of Baker Street
Noah's Ark—the latest in VR technology and a milestone of human innovation—is set for a showcase to Japan's privileged children. They have the honour of beginning a new revolution in gaming; however, their carefree fun is cut short when a company employee is found murdered, with his dying message pointing to a clue hidden within the Ark. Along with the Detective Boys and Ran Mouri, Conan Edogawa enters Noah's Ark to solve this mystery and ensure the perpetrator is caught. But once they're inside the Ark, it takes on a mind of its own, imprisoning them and the children within its worlds. To escape and bring the murderer to justice, Conan and company must navigate a simulated 19th century London and track down the infamous Jack the Ripper—with the lives of 50 innocent children depending on them. [Written by MAL Rewrite]
Haibara, Ai

Main

Kojima, Genta

Main

Mouri, Ran

Main

Noah's Ark

Main

Tsuburaya, Mitsuhiko

Main

Yoshida, Ayumi

Main

Edogawa, Conan

Main

Megure, Juuzou

Supporting

Takizawa, Shinya

Supporting

Moran, Sebastian

Supporting

Moriarty, James

Supporting

Moroboshi, Toshio

Supporting

Moroboshi, Hideki

Supporting

Mouri, Kogorou

Supporting

Sawada, Hiroki

Supporting

Schindler, Thomas

Supporting

Shimizu

Supporting

Shiratori, Ninzaburou

Supporting

Suzuki, Sonoko

Supporting

Kudou, Yukiko

Supporting
Because we are making use of some free resources to reduce the main server load, the player can be opened on another domain or showed as a new tab (you have to allow pop-up if you're not using Chrome).