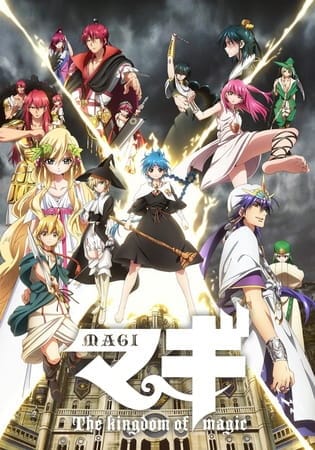 Aired: Oct 6, 2013 to Mar 30, 2014
Duration: 25 min. per ep.
Viewed: 695
Synonyms: Magi The Kingdom of Magic 2
After celebrating their victory against Al-Thamen, Aladdin and his friends depart the land of Sindria. With the end of the battle, however, comes the time for each of them to go their separate ways. Hakuryuu and Kougyoku are ordered to go back to their home country, the Kou Empire. Meanwhile Aladdin announces he needs to head for Magnostadt—a mysterious country ruled by magicians—to investigate the mysterious events occurring in this new kingdom and become more proficient in magic. For their part, encouraged by Aladdin's words, Alibaba and Morgiana also set off in pursuit of their own goals: training and going to her homeland, respectively. Magi: The Kingdom of Magic follows these friends as they all go about their separate adventures, each facing their own challenges. However, a new threat begins to rise as a great war looms over the horizon... [Written by MAL Rewrite]
Morgiana

Main

Saluja, Alibaba

Main

Aladdin

Main

Pisti

Supporting

Ren, Koumei

Supporting

Phenex

Supporting

Otto

Supporting

Nero

Supporting

Narrator

Supporting

Nando, M

Supporting

Zepar

Supporting

Noi Nueph, Uraltugo

Supporting

Ramal, Shambal

Supporting

Rametoto

Supporting

Reirei

Supporting

Ren, Kougyoku

Supporting

Ren, Kouen

Supporting

Ren, Hakuren

Supporting

Ren, Kouha

Supporting

Nando, L

Supporting
Because we are making use of some free resources to reduce the main server load, the player can be opened on another domain or showed as a new tab (you have to allow pop-up if you're not using Chrome).