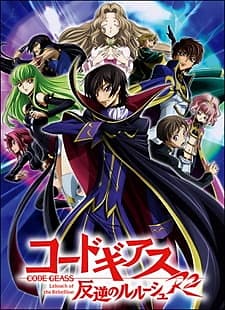 Aired: Apr 6, 2008 to Sep 28, 2008
Duration: 24 min. per ep.
Viewed: 2973
Synonyms: Code Geass: Lelouch of the Rebellion R2
One year has passed since the Black Rebellion, a failed uprising against the Holy Britannian Empire led by the masked vigilante Zero, who is now missing. At a loss without their revolutionary leader, Area 11's resistance group—the Black Knights—find themselves too powerless to combat the brutality inflicted upon the Elevens by Britannia, which has increased significantly in order to crush any hope of a future revolt. Lelouch Lamperouge, having lost all memory of his double life, is living peacefully alongside his friends as a high school student at Ashford Academy. His former partner C.C., unable to accept this turn of events, takes it upon herself to remind him of his past purpose, hoping that the mastermind Zero will rise once again to finish what he started, in this thrilling conclusion to the series. [Written by MAL Rewrite]
Kururugi, Suzaku

Main

Lamperouge, Lelouch

Main

Stadtfeld, Kallen

Main

C.C.

Main

li Britannia, Cornelia

Supporting

S. Darlton, Claudio

Supporting

Minami, Yoshitaka

Supporting

Maldini, Kanon

Supporting

Lohmeyer, Alicia

Supporting

Lamperouge, Rolo

Supporting

Lamperouge, Nunnally

Supporting

zi Britannia, Charles

Supporting

Li, Xingke

Supporting

Minase, Mutsuki

Supporting

N. Darlton, Edgar

Supporting

ne Britannia, Carine

Supporting

Nu, Villetta

Supporting

Ougi, Kaname

Supporting

Ried, Diethard

Supporting

L. Darlton, Bart

Supporting
Because we are making use of some free resources to reduce the main server load, the player can be opened on another domain or showed as a new tab (you have to allow pop-up if you're not using Chrome).