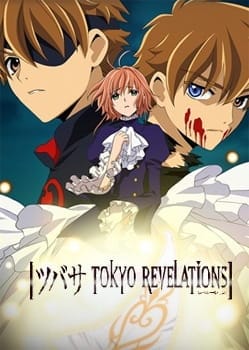 Aired: Nov 16, 2007 to Mar 17, 2008
Duration: 30 min. per ep.
Viewed: 44
Synonyms: Tsubasa RESERVoir CHRoNiCLE: Tokyo Revelations, Tsubasa Reservoir Chronicle OVA, Tsubasa Reservoir Chronicle: Tokyo Revelations, ツバサ TOKYO REVELATIONS
Continuing their journey from Record Country (the place that held the book of memories), Syaoran and company land into Tokyo Country, a blood-filled country under war from opposing factions for natural resources and survival. While reluctantly involved in the race to live, the group faces their own problems as certain revelations are made, changing their journey forever. A shocking betrayal and a battle that risks all of their lives. After this revelation, they will never be the same again.
Kurogane

Main

Li, Syaoran

Main

Modoki, Mokona

Main

Sakura

Main

Syaoran

Main

Flourite, Fai D.

Main

Yatoji, Satsuki

Supporting

Sumeragi, Subaru

Supporting

Shiyu, Kusanagi

Supporting

Shirou, Kamui

Supporting

Reed, Fei Wong

Supporting

Nekoi, Yuzuriha

Supporting

Nataku

Supporting

Monou, Fuuma

Supporting

Kuzuki, Kakyo

Supporting

Kigai, Yuto

Supporting

Kazuki

Supporting

Kasumi, Karen

Supporting

Ichihara, Yuuko

Supporting

Huo, Xing

Supporting
Comming soon!!! But still, you're very handsome.
Please comment for requesting this anime.