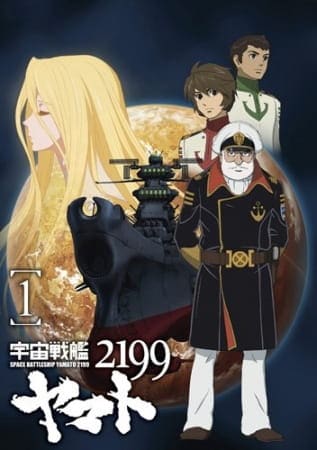 In the year 2199, Earth faces its greatest crisis. Due to unrelenting bombings by the alien race known as "Gamilas," the planet can no longer sustain its inhabitants. In exactly one year, humanity is set to become extinct. In desperation, the people of Earth establish the Earth Defense Force, their last defense against the power-hungry Gamilas Empire. However, humanity finds a glimmer of hope after receiving a message from the mysterious planet Iscandar, which offers them a device that would restore Earth to its former glory. With salvation in sight, the Earth Defense Force calls on the prolific Space Battleship Yamato and swiftly assembles a crew to make the 168,000 light-year trek to Iscandar and receive their aid. Among the crew are young officers Susumu Kodai and Daisuke Shima, along with several other newly promoted leaders, all under the command of the distinguished Captain Juuzou Okita. Forced to learn how to handle the ship's innovative technology while dealing with the onslaught of Gamilas fleets, the inexperienced cast of Uchuu Senkan Yamato 2199 must summon every inch of their resolve to survive the many hardships aboard the Yamato and complete their mission: to save humanity before it's too late. [Written by MAL Rewrite]
Duration: 25 min. per ep.
Synonyms: Uchuu Senkan Yamato 2199
Kodai, Susumu

Main

Mori, Yuki

Main

Okita, Juuzou

Main

Sanada, Shirou

Main

Shima, Daisuke

Main

Desler, Aberdt

Main

Kodai, Mamoru

Supporting

Yamazaki, Susumu

Supporting

Laleta, Saleluya

Supporting

Lang, Valus

Supporting

Misaki, Yuria

Supporting

Nanbu, Yasuo

Supporting

Nerge, Paren

Supporting

Niimi, Kaoru

Supporting

Oota, Kenjirou

Supporting

Sado, Sakezou

Supporting

Shinohara, Hiroki

Supporting

Starsha

Supporting

Talan, Welte

Supporting

Tokugawa, Hikozaemon

Supporting
Because we are making use of some free resources to reduce the main server load, the player can be opened on another domain or showed as a new tab (you have to allow pop-up if you're not using Chrome).