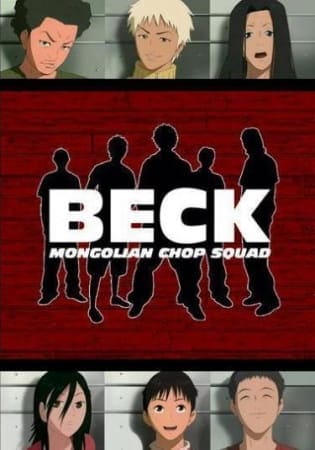 Aired: Oct 7, 2004 to Mar 31, 2005
Duration: 25 min. per ep.
Viewed: 27
Synonyms: Beck: Mongolian Chop Squad, BECK, ベック
Fourteen-year-old Yukio "Koyuki" Tanaka is a dispirited young boy with no goals in life. However, this all changes when Koyuki saves a strange-looking dog named Beck from being harassed by a group of local kids. The dog's owner, 16-year-old Ryuusuke "Ray" Minami, is an emerging guitarist and the former member of a popular rock band. After Koyuki meets Ray again in a diner, the older boy leads him to his former band's meeting place and dazzles Koyuki with his amazing guitar skills. Slowly becoming interested in the glamour of western rock culture, Koyuki decides to start playing the guitar while helping Ray achieve his dream of leading the ultimate rock band. Together with Ray's younger sister Maho and a few other members, the two boys launch their career into the world of rock by forming a band called BECK. Beck follows the group's struggles and successes as they spread their fame across Japan. [Written by MAL Rewrite]
Chiba, Tsunemi

Main

Minami, Ryuusuke

Main

Minami, Maho

Main

Sakurai, Yuuji

Main

Taira, Yoshiyuki

Main

Tanaka, Yukio

Main

Hyodou, Masaru

Supporting

Ishiguro, Izumi

Supporting

Kayo

Supporting

Kimura, Eiji

Supporting

Kitazawa, Rikiya

Supporting

Lee, Eddie

Supporting

Masuoka, Hiromi

Supporting

Miyazawa, Manabu

Supporting

Morozumi, Yoshito

Supporting

Ogasawara, Momoko

Supporting

Page

Supporting

Ran

Supporting

Reed, Matt

Supporting

Saitou, Kenichi

Supporting
Comming soon!!! But still, you're very handsome.
Please comment for requesting this anime.