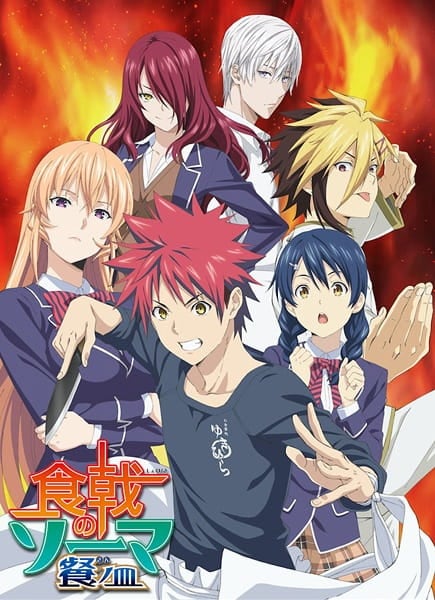 Aired: Oct 4, 2017 to Dec 20, 2017
Duration: 24 min. per ep.
Viewed: 56
Synonyms: Food Wars! The Third Plate, Shokugeki no Soma 3rd Season, Shokugeki no Soma 3, 食戟のソーマ 餐ノ皿
The Moon Festival is Tootsuki Academy's annual gourmet gala, where students compete against each other to earn the most profit through selling their cuisine of choice. But for Souma Yukihira, it is also his first opportunity to challenge the Elite Ten, the supreme council that rules over the academy. However, this is only the beginning of Souma's war against the Elite Ten; a nefarious plot is underway that will provide Souma with the challenge he desires but will also shake the very foundations of Tootsuki Academy itself. [Written by MAL Rewrite]
Tadokoro, Megumi

Main

Yukihira, Souma

Main

Nakiri, Erina

Main

Tsukasa, Eishi

Supporting

Kumai, Shigemichi

Supporting

Tomita, Yuuya

Supporting

Soutsuda, Mitsuru

Supporting

Sadatsuka, Nao

Supporting

Ooizumi, Kakinoshin

Supporting

Nakiri, Azami

Supporting

Nakiri, Alice

Supporting

Nakiri, Senzaemon

Supporting

Mito, Ikumi

Supporting

Mimasaka, Subaru

Supporting

Megishima, Tousuke

Supporting

Marui, Zenji

Supporting

Kusunoki, Rentarou

Supporting

Kurokiba, Ryou

Supporting

Kurase, Mayumi

Supporting

Yukihira, Jouichirou

Supporting
Comming soon!!! But still, you're very handsome.
Please comment for requesting this anime.