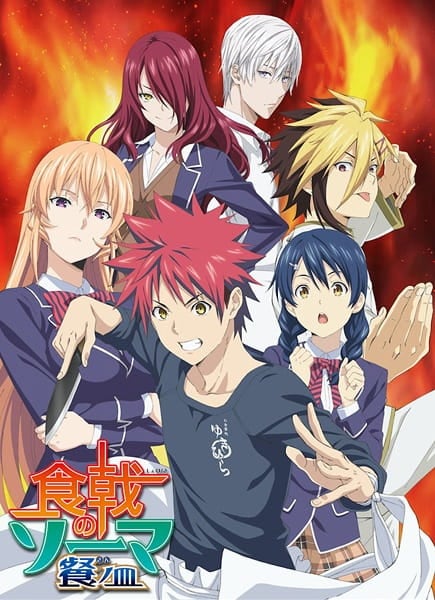 Aired: Oct 4, 2017 to Dec 20, 2017
Duration: 24 min. per ep.
Viewed: 37
Synonyms: Food Wars! The Third Plate, Shokugeki no Soma 3rd Season, Shokugeki no Soma 3, 食戟のソーマ 餐ノ皿
The Moon Festival is Tootsuki Academy's annual gourmet gala, where students compete against each other to earn the most profit through selling their cuisine of choice. But for Souma Yukihira, it is also his first opportunity to challenge the Elite Ten, the supreme council that rules over the academy. However, this is only the beginning of Souma's war against the Elite Ten; a nefarious plot is underway that will provide Souma with the challenge he desires but will also shake the very foundations of Tootsuki Academy itself. [Written by MAL Rewrite]
Nakiri, Erina

Main

Tadokoro, Megumi

Main

Yukihira, Souma

Main

Chapelle, Roland

Supporting

Daimidou, Fumio

Supporting

Doujima, Gin

Supporting

Eizan, Etsuya

Supporting

Enomoto, Madoka

Supporting

Goudabayashi, Kiyoshi

Supporting

Hayama, Akira

Supporting

Hiroi

Supporting

Houjou, Miyoko

Supporting

Hugo, Lucie

Supporting

Ibusaki, Shun

Supporting

Isshiki, Satoshi

Supporting

Kabutoyama, Tetsuji

Supporting

Kageura, Hisanao

Supporting

Kinokuni, Nene

Supporting

Kita, Osaji

Supporting

Kobayashi, Rindou

Supporting
Comming soon!!! But still, you're very handsome.
Please comment for requesting this anime.