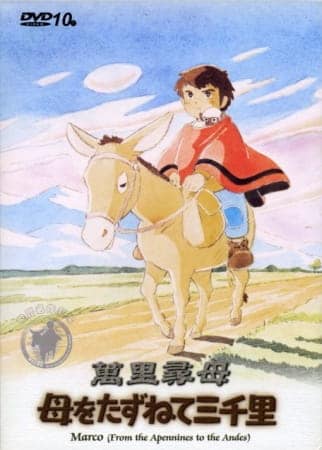 Aired: Jan 4, 1976 to Dec 26, 1976
Duration: 26 min. per ep.
Viewed: 269
Synonyms: Sekai Meisaku Gekijou, 3000 Leagues in Search of Mother, Marco, From the Appenines to the Andes, 母をたずねて三千里
Based on a short section of the novel Cuore by the Italian Edmondo de Amicis, Marco is a young boy living in Genoa, Italy, together with his father Pietro. But the family is not complete, for Marco`s mother left for Argentina around a year earlier in order to find work. Letters from her arrive regularly until one day they suddenly stop. Worry for his mother and what might have happened to her overcomes the young boy. Marco thus decides to embark upon a journey to Argentina in the hope of being reunited with his mother. At first, Pietro is opposed to Marco`s plan, but moved by his son's enthusiasm, he eventually allows the boy to go. So begins Marco`s long journey of the heart. Marco encounters many people throughout his travels, and finds maturity and self-acceptance as a result of his experiences. (Source: Nippon Animation)
Rossi, Marco

Main

Mereddi, Francesco

Supporting

Rossi, Pietro

Supporting

Rossi, Anna

Supporting

Rossi, Antonio

Supporting

Rocky

Supporting

Peppino, Fiolina

Supporting

Peppino, Giulietta

Supporting

Peppino, Concetta

Supporting

Peppino, Father

Supporting

Narrator

Supporting

Mequínez, Ramón

Supporting

Leonardo

Supporting

García, Pablo

Supporting

García, Juana

Supporting

Federico

Supporting

Emilio

Supporting

Cristini, Gina

Supporting

Amedio

Supporting
Because we are making use of some free resources to reduce the main server load, the player can be opened on another domain or showed as a new tab (you have to allow pop-up if you're not using Chrome).