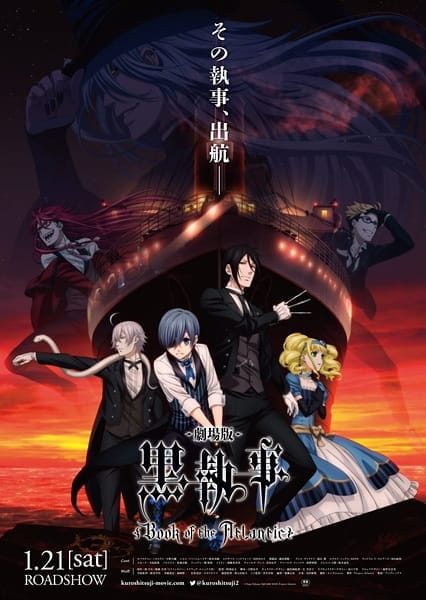 Aired: Jan 21, 2017
Duration: 1 hr. 40 min.
Viewed: 881
Synonyms: Kuroshitsuji Movie: Book of the Atlantic
The young Earl Ciel Phantomhive—the Queen's Guard Dog—is once again called to investigate seemingly supernatural phenomena when news of miraculous resurrections begins to surface in Victorian London. Along with Sebastian Michaelis, his demon butler, they board the luxury cruise liner Campania to investigate rumors of the Aurora Society—a medical organization suspected of experimenting on the dead. Grim reapers begin to appear on the ship, and it becomes apparent that the ship is about to be overrun with the undead as a devious plan is put into motion. Ciel and Sebastian must now uncover the secrets that lie behind the Aurora Society's phoenix symbol, and with the help of some old acquaintances, return the undead to their coffins or share a watery grave. [Written by MAL Rewrite]
Phantomhive, Ciel

Main

Michaelis, Sebastian

Main

Undertaker

Supporting

Tanaka

Supporting

Sutcliff, Grell

Supporting

Stoker, Ryan

Supporting

Spears, William T.

Supporting

Snake

Supporting

Queen Victoria

Supporting

Phipps, Charles

Supporting

Paula

Supporting

Midford, Elizabeth

Supporting

Midford, Edward

Supporting

Midford, Alexis Leon

Supporting

Midford, Frances

Supporting

Mey-Rin

Supporting

Lau

Supporting

Knox, Ronald

Supporting

Grey, Charles

Supporting

Finnian

Supporting
Because we are making use of some free resources to reduce the main server load, the player can be opened on another domain or showed as a new tab (you have to allow pop-up if you're not using Chrome).