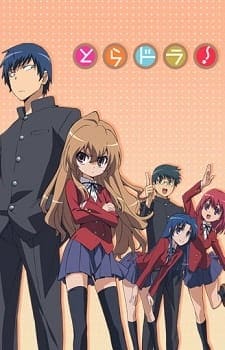 Aired: Oct 2, 2008 to Mar 26, 2009
Duration: 24 min. per ep.
Viewed: 3710
Synonyms: Toradora!
Ryuuji Takasu is a gentle high school student with a love for housework; but in contrast to his kind nature, he has an intimidating face that often gets him labeled as a delinquent. On the other hand is Taiga Aisaka, a small, doll-like student, who is anything but a cute and fragile girl. Equipped with a wooden katana and feisty personality, Taiga is known throughout the school as the "Palmtop Tiger." One day, an embarrassing mistake causes the two students to cross paths. Ryuuji discovers that Taiga actually has a sweet side: she has a crush on the popular vice president, Yuusaku Kitamura, who happens to be his best friend. But things only get crazier when Ryuuji reveals that he has a crush on Minori Kushieda—Taiga's best friend! Toradora! is a romantic comedy that follows this odd duo as they embark on a quest to help each other with their respective crushes, forming an unlikely alliance in the process. [Written by MAL Rewrite]
Kawashima, Ami

Main

Kitamura, Yuusaku

Main

Kushieda, Minori

Main

Takasu, Ryuuji

Main

Aisaka, Taiga

Main

Tomiie, Kouta

Supporting

Takasu, Yasuko

Supporting

Takasu, Seiji

Supporting

Takasu, Sonoko

Supporting

Stalker man

Supporting

Noto, Hisamitsu

Supporting

Murase

Supporting

Mitsui, Yuriko

Supporting

Kuroma

Supporting

Koigakubo, Yuri

Supporting

Kihara, Maya

Supporting

Kashii, Nanako

Supporting

Kanou, Sumire

Supporting

Kanou, Sakura

Supporting

Inko

Supporting
Because we are making use of some free resources to reduce the main server load, the player can be opened on another domain or showed as a new tab (you have to allow pop-up if you're not using Chrome).