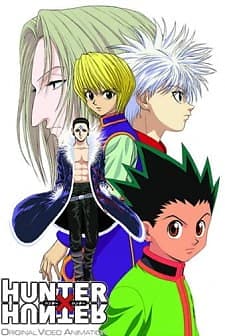 Aired: Jan 17, 2002 to Apr 17, 2002
Duration: 24 min. per ep.
Viewed: 62
Synonyms: Hunter x Hunter: Original Video Animation
After reuniting with Gon and his friends, Kurapika explained to them the risks he bears because of his abilities. Believing that his target of revenge is no longer alive and the search for his fallen comrade's eyes could truly begin, Kurapika soon after receives a message informing him that all the Spiders still lived. After much discussion between his friends, Gon, Kurapika and company decided to hunt after the one Spider member who's ability could ultimately result in Kurapika's defeat and death. Based on the manga by Togashi Yoshihiro.
Kurapika

Main

Paladiknight, Leorio

Main

Zoldyck, Killua

Main

Freecss, Gon

Main

Zoldyck, Milluki

Supporting

Zoldyck, Kalluto

Supporting

Zoldyck, Illumi

Supporting

Tounofmaill, Koltopi

Supporting

Squala

Supporting

Senritsu

Supporting

Ryuseih, Shalnark

Supporting

Pohtoh, Feitan

Supporting

Pakunoda

Supporting

Nostrade, Neon

Supporting

Ndongo, Bonolenov

Supporting

Murasaki, Shizuku

Supporting

Morow, Hisoka

Supporting

Magkav, Phinks

Supporting

Lucilfer, Chrollo

Supporting

Komachine, Machi

Supporting
Because we are making use of some free resources to reduce the main server load, the player can be opened on another domain or showed as a new tab (you have to allow pop-up if you're not using Chrome).