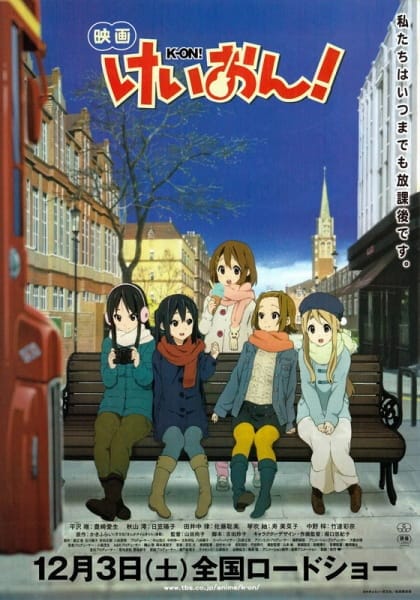 Aired: Dec 3, 2011
Duration: 1 hr. 50 min.
Viewed: 23
Synonyms: K-On! Movie
Graduation looms for the founding members of the Light Music Club. With only a few precious weeks of school left, the girls decide to make the most of it and plan a trip abroad. Hawaii, New York, Dubai—many destinations are suggested, but after a little help from the club's precious pet turtle, Ton-chan, London is chosen as the host of their next misadventure! Yui Hirasawa, Mio Akiyama, Tsumugi Kotobuki, Ritsu Tainaka, and Azusa Nakano will visit famous landmarks, perform live music for Londoners, and eat all sorts of delicious food, all while stumbling clumsily from place to place. But the fun won't last forever, as heartfelt songs and goodbyes will be made as their high school days together come to a close. One thing is for certain though: the undeniable friendships these girls have formed is something that will carry on long after the final scene rolls. [Written by MAL Rewrite]
Hirasawa, Yui

Main

Kotobuki, Tsumugi

Main

Nakano, Azusa

Main

Tainaka, Ritsu

Main

Akiyama, Mio

Main

Nojima, Chika

Supporting

Yamanaka, Sawako

Supporting

Oota, Ushio

Supporting

Sasaki, Youko

Supporting

Satou, Akane

Supporting

Shima, Chizuru

Supporting

Student Council Treasurer

Supporting

Suzuki, Jun

Supporting

Tachibana, Himeko

Supporting

Tainaka, Satoshi

Supporting

Takahashi, Fuuko

Supporting

Taki, Eri

Supporting

Nakajima, Nobuyo

Supporting

Manabe, Nodoka

Supporting

Maki

Supporting
Because we are making use of some free resources to reduce the main server load, the player can be opened on another domain or showed as a new tab (you have to allow pop-up if you're not using Chrome).