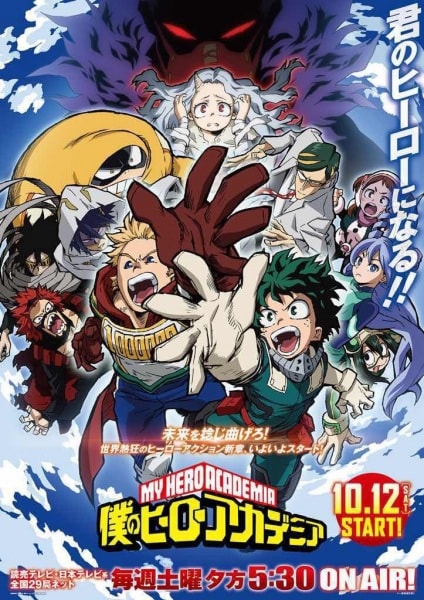 Aired: Oct 12, 2019 to Apr 4, 2020
Duration: 24 min. per ep.
Viewed: 301
Synonyms: My Hero Academia 4, 僕のヒーローアカデミア 4thシーズン
After successfully passing his Provisional Hero License exam, Izuku "Deku" Midoriya seeks out an extracurricular internship with a professional hero agency. At the recommendation of his mentor All Might, Midoriya lands a position under All Might's former sidekick, Sir Nighteye, now a famous hero in his own right. As Midoriya's classmates further their own abilities through various internships, up-and-coming villain Kai Chisaki utilizes his terrifying powers to gather favor in the criminal underworld. Known by the moniker Overhaul, Chisaki's ambitions collide with the League of Villains and its leader, Tomura Shigaraki. Through his work with Sir Nighteye, Midoriya discovers Chisaki's crime syndicate and the villain's hostile relationship with a mysterious young girl named Eri. Fearing for the child's safety, Midoriya and his upperclassman Mirio Toogata must work together to put an end to Chisaki's reign of terror. [Written by MAL Rewrite]
Midoriya, Izuku

Main

Toogata, Mirio

Main

Sakamata, Kugo

Supporting

Sako, Atsuhiro

Supporting

Sasaki, Mirai

Supporting

Satou, Rikidou

Supporting

Sero, Hanta

Supporting

Setsuno, Toya

Supporting

Shigaraki, Tomura

Supporting

Shishikura, Seiji

Supporting

Shouji, Mezou

Supporting

Tabe, Soramitsu

Supporting

Takagi, Ken

Supporting

Tatsuma, Ryuuko

Supporting

Tengai, Hekiji

Supporting

Tetsutetsu, Tetsutetsu

Supporting

Thirteen

Supporting

Tobita, Danjuro

Supporting

Todoroki, Shouto

Supporting

Todoroki, Enji

Supporting
Comming soon!!! But still, you're very handsome.
Please comment for requesting this anime.