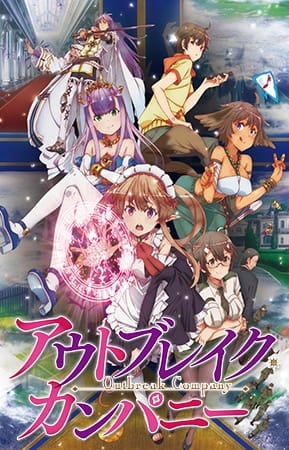 Aired: Oct 4, 2013 to Dec 20, 2013
Duration: 24 min. per ep.
Viewed: 307
Synonyms: Outbreak Company (Dub)
Shinichi Kanou is a shut-in otaku with a vast knowledge of anime, manga, and video games. One day, after applying for a job in hopes of escaping his secluded lifestyle, he is kidnapped and transported to the Eldant Empire—a fantasy world filled with elves, dragons, and dwarves. Trapped in this strange land, Shinichi is given an unlikely task by the Japanese government: to spread otaku culture across the realm by becoming an "Otaku Missionary." To accomplish his mission, Shinichi has the full support of the Japanese government, as well as the half-elf maid Myucel and Princess Petralka of the Eldant Empire. Together with this ragtag bunch, he will overcome the obstacles of politics, social classes, and ethnic discrimination to promote the ways of the otaku in this holy land. [Written by MAL Rewrite]
Anne Eldante III, Petralka

Main

Foaran, Myucel

Main

Kanou, Shinichi

Main

Darwin, Brooke

Supporting

En Koldobar, Galious

Supporting

Game Narrator

Supporting

Garde, Romilda

Supporting

Hanaiman, Elbia

Supporting

Koganuma, Minori

Supporting

Luna

Supporting

Matoba, Jinzaburou

Supporting

Pertini, Edoardo Teodoro

Supporting

Sleison, Loic

Supporting

Zakhar

Supporting
Because we are making use of some free resources to reduce the main server load, the player can be opened on another domain or showed as a new tab (you have to allow pop-up if you're not using Chrome).