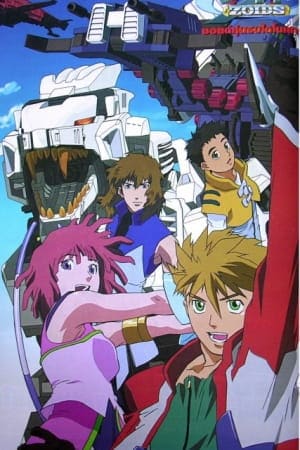 Aired: Jan 6, 2001 to Jun 30, 2001
Duration: 24 min. per ep.
Viewed: 70
Synonyms: Zoids New Century Zero
Zoids—powerful animal-shaped combat mechs—are no longer used in warfare, but in organized sporting competitions. The Blitz Team, a group of pilots struggling to carve out a niche for themselves in the Zoid battling leagues, experience a stroke of luck when Bit Cloud, a vagrant junk dealer, wanders into their midst and proves himself capable of piloting the temperamental Liger Zero, a Zoid that refuses to let anyone else into its cockpit. Led by Bit and the Liger, the Blitz Team steadily make their way to the top—but along the way they attract the unwelcome attention of the Backdraft Group, an organization of Zoid pilots that operates outside the laws set down by the Zoid Battle Commission. The Backdraft want powerful Zoids to add to their ranks, and they have their eye on the Liger Zero...
Hemeros, Jamie

Main

Hunter, Brad

Main

Toros, Steve

Main

Toros, Leena

Main

Cloud, Bit

Main

Toros, Leon

Supporting

Stoller, Stigma

Supporting

Schubaltz, Karl

Supporting

Sarah

Supporting

Polta

Supporting

Pierce

Supporting

Obscura, Vega

Supporting

Leyon

Supporting

Hemeros, Oscar

Supporting

Fluegel, Naomi

Supporting

Cisco, Jack

Supporting

Champ, Harry

Supporting

Altail

Supporting
Because we are making use of some free resources to reduce the main server load, the player can be opened on another domain or showed as a new tab (you have to allow pop-up if you're not using Chrome).