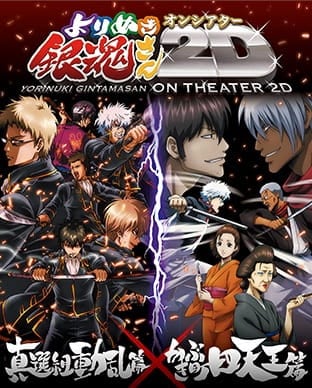 Aired: Aug 26, 2012
Duration: 1 hr. 36 min. per ep.
Viewed: 80
Synonyms: Shinsengumi Douran Hen, Kabuki Chou Shitennou Hen, Kabuki-chou Devas Hen, Gintama: The Best of Gintama on Theater 2D, 銀魂 よりぬき銀魂さんオンシアター2D
Demonic Vice-Commander of the Shinsengumi, Toushirou Hijikata, acquires a cursed sword—one which completely rewrites his personality, morphing him from a hard-boiled, no-nonsense cop into a hopeless otaku. As he struggles to break the curse, an ambitious new member of the police force, Itou Kamotarou, seizes the opportunity to depose Hijikata in his bid for power within the organization. However, Itou's scheme is revealed to be more devious than anyone imagined, and the very existence of the Shinsengumi is thrown into peril. In another time and place, the Yorozuya squad is suddenly greeted by a potential new recruit. Before them is a mysterious young woman named Pirako Doromizu who hides a penchant for extreme violence behind her smiling, enthusiastic exterior. However, unbeknownst to Gintoki and the others, Pirako has strong ties to one of the ruling figures of the Kabuki district of Edo, and her arrival sets off a chain reaction that throws the inhabitants of the district into a civil war. [Written by MAL Rewrite]
Doromizu, Jirochou

Main

Hijikata, Toushirou

Main

Kagura

Main

Sakata, Gintoki

Main

Shimura, Shinpachi

Main

Agonoske, Azumi

Supporting

Catherine

Supporting

Doromizu, Pirako

Supporting

Hachiro

Supporting

Haji

Supporting

Hasegawa, Taizou

Supporting

Hiraga, Gengai

Supporting

Honjou, Kyoushirou

Supporting

Itou, Kamotarou

Supporting

Kada

Supporting

Kawakami, Bansai

Supporting

Kondou, Isao

Supporting

Kozenigata, Heiji

Supporting

Kurogoma, Katsuo

Supporting

Matsudaira, Katakuriko

Supporting
Comming soon!!! But still, you're very handsome.
Please comment for requesting this anime.