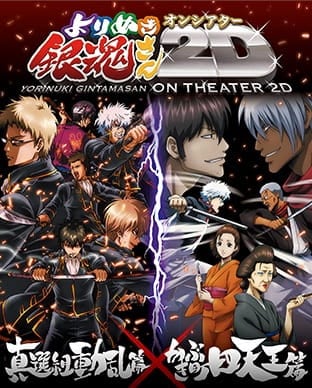 Aired: Aug 26, 2012
Duration: 1 hr. 36 min. per ep.
Viewed: 224
Synonyms: Gintama: Yorinuki Gintama-san on Theater 2D
Demonic Vice-Commander of the Shinsengumi, Toushirou Hijikata, acquires a cursed sword—one which completely rewrites his personality, morphing him from a hard-boiled, no-nonsense cop into a hopeless otaku. As he struggles to break the curse, an ambitious new member of the police force, Itou Kamotarou, seizes the opportunity to depose Hijikata in his bid for power within the organization. However, Itou's scheme is revealed to be more devious than anyone imagined, and the very existence of the Shinsengumi is thrown into peril. In another time and place, the Yorozuya squad is suddenly greeted by a potential new recruit. Before them is a mysterious young woman named Pirako Doromizu who hides a penchant for extreme violence behind her smiling, enthusiastic exterior. However, unbeknownst to Gintoki and the others, Pirako has strong ties to one of the ruling figures of the Kabuki district of Edo, and her arrival sets off a chain reaction that throws the inhabitants of the district into a civil war. [Written by MAL Rewrite]
Hijikata, Toushirou

Main

Kagura

Main

Sakata, Gintoki

Main

Shimura, Shinpachi

Main

Doromizu, Jirochou

Main

Matsudaira, Katakuriko

Supporting

Yamazaki, Sagaru

Supporting

Murata, Tetsuko

Supporting

Okita, Sougo

Supporting

Otose

Supporting

Sadaharu

Supporting

Saigou, Teruhiko

Supporting

Saigou, Tokumori

Supporting

Shimura, Tae

Supporting

Takasugi, Shinsuke

Supporting

Tama

Supporting

Tatsumi

Supporting

Terada, Tatsugorou

Supporting

Kurogoma, Katsuo

Supporting

Kozenigata, Heiji

Supporting
Because we are making use of some free resources to reduce the main server load, the player can be opened on another domain or showed as a new tab (you have to allow pop-up if you're not using Chrome).