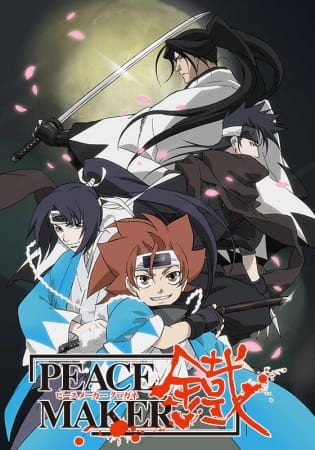 Although traumatized by witnessing the murder of his parents by one of the Choushuu, Ichimura Tetsunosuke's thirst for revenge lead him to desire strength. At the age of 15, Tetsunosuke approached the Shinsengumi, wanting to become one of its members. However, Tetsunosuke lacked the skill, mind and will to emotionlessly cut down whoever threatened peace and the Shinsengumi. Even with the support of his brother Tatsunosuke and his newfound friends of the Shinsengumi, little did Tetsunosuke know the blood and pain he would have to face being part of this historical group.
Aired: Oct 8, 2003 to Mar 24, 2004
Duration: 24 min. per ep.
Synonyms: Peace Maker Kurogane
Ichimura, Tatsunosuke

Main

Ichimura, Tetsunosuke

Main

Okita, Souji

Main

Yamazaki, Susumu

Main

Hijikata, Toshizou

Main

Yoshida, Toshimaru

Supporting

Yamazaki, Ayumu

Supporting

Yamanami, Keisuke

Supporting

Toudou, Heisuke

Supporting

Shimada, Kai

Supporting

Saya

Supporting

Sakamoto, Ryouma

Supporting

Saizou

Supporting

Saitou, Hajime

Supporting

Nagakura, Shinpachi

Supporting

Kondou, Isami

Supporting

Kitamura, Suzu

Supporting

Harada, Sanosuke

Supporting

Akesato

Supporting
Because we are making use of some free resources to reduce the main server load, the player can be opened on another domain or showed as a new tab (you have to allow pop-up if you're not using Chrome).