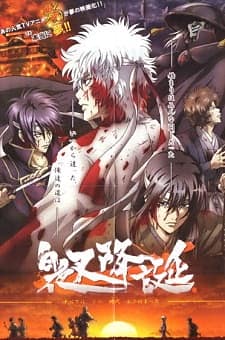 Aired: Sep 21, 2008
Duration: 10 min.
Viewed: 94
Synonyms: Gintama: Jump Festa 2008 Special, Gintama: Jump Anime Tour 2008 Special, ジャンプアニメツアー 2008 白夜叉降誕
According to Aniplex, a 10min short anime of Gintama "Shiroyasha Koutan" will be released on September 30th. It was shown at Jump Super Anime Tour 2008 and had never been released as a DVD. It's a trailer of an imaginary Gintama movie. Gintama OVA shown at Jump Anime Tour '05 is also included in the DVD.
Kagura

Main

Sakata, Gintoki

Main

Shimura, Shinpachi

Main

Elizabeth

Supporting

Hasegawa, Taizou

Supporting

Hijikata, Toushirou

Supporting

Katsura, Kotarou

Supporting

Kondou, Isao

Supporting

Okita, Sougo

Supporting

Sakamoto, Tatsuma

Supporting

Sarutobi, Ayame

Supporting

Shimura, Tae

Supporting

Takasugi, Shinsuke

Supporting

Yagyuu, Kyuubei

Supporting
Comming soon!!! But still, you're very handsome.
Please comment for requesting this anime.