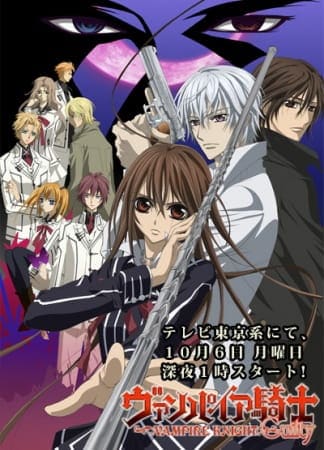 Aired: Oct 7, 2008 to Dec 30, 2008
Duration: 24 min. per ep.
Viewed: 2007
Synonyms: Vampire Knight Guilty
As a direct continuation of the first season, Zero comes back after his disappearance from the academy. Despite her relief, Yuuki, whose past is still shrouded in mystery, wonders what exactly happened to Zero during the separation. As Zero continues having the strange vision that appeared since the day he drank Kaname's blood, he visits the now awakened Maria Kurenai in an attempt to find answers. She only provides him with a cryptic answer that suggests who the true enemy really might be. In the meantime, vampires from the Supreme Vampire Council arrive at the academy in order to punish Zero with death for his sin of killing a pureblood. However, Kaname intervenes with the council's decision with not only the intention of saving Zero but with another purpose unbeknown to everyone around him. [Written by MAL Rewrite]
Kiryuu, Zero

Main

Kuran, Kaname

Main

Cross, Yuuki

Main

Yagari, Tooga

Supporting

Wakaba, Sayori

Supporting

Vampire Hunter Association President

Supporting

Tooya, Rima

Supporting

Souen, Ruka

Supporting

Shiki, Mother

Supporting

Shiki, Senri

Supporting

Seiren

Supporting

Kurenai, Maria

Supporting

Kuran, Rido

Supporting

Kuran, Haruka

Supporting

Kuran, Juri

Supporting

Kiryuu, Father

Supporting

Kiryuu, Mother

Supporting

Kiryuu, Ichiru

Supporting

Kain, Akatsuki

Supporting

Kageyama, Kasumi

Supporting
Because we are making use of some free resources to reduce the main server load, the player can be opened on another domain or showed as a new tab (you have to allow pop-up if you're not using Chrome).