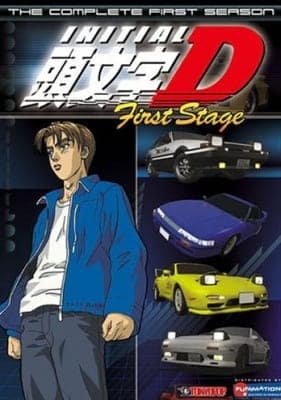 Aired: Apr 19, 1998 to Dec 6, 1998
Duration: 25 min. per ep.
Viewed: 926
Synonyms: Initial D: First Stage
Unlike his friends, Takumi Fujiwara is not particularly interested in cars, with little to no knowledge about the world of car enthusiasts and street racers. The son of a tofu shop owner, he is tasked to deliver tofu every morning without fail, driving along the mountain of Akina. Thus, conversations regarding cars or driving in general would only remind Takumi of the tiring daily routine forced upon him. One night, the Akagi Red Suns, an infamous team of street racers, visit the town of Akina to challenge the local mountain pass. Led by their two aces, Ryousuke and Keisuke Takahashi, the Red Suns plan to conquer every racing course in Kanto, establishing themselves as the fastest crew in the region. However, much to their disbelief, one of their aces is overtaken by an old Toyota AE86 during a drive back home from Akina. After the incident, the Takahashi brothers are cautious of a mysterious driver geared with remarkable technique and experience in the local roads—the AE86 of Mount Akina. [Written by MAL Rewrite]
Fujiwara, Takumi

Main

Nakazato, Takeshi

Supporting

Takeuchi, Itsuki

Supporting

Takahashi, Ryousuke

Supporting

Takahashi, Keisuke

Supporting

Tachibana, Yuuichi

Supporting

Shouji, Shingo

Supporting

Shouichi

Supporting

Sayuki

Supporting

Satou, Mako

Supporting

Saori

Supporting

Papa

Supporting

Nakamura, Kenta

Supporting

Mogi, Natsuki

Supporting

Miki

Supporting

Kenji

Supporting

Iketani, Kouichirou

Supporting

Hiromichi

Supporting

Fumihiro, Hiroshi

Supporting

Fujiwara, Bunta

Supporting
Because we are making use of some free resources to reduce the main server load, the player can be opened on another domain or showed as a new tab (you have to allow pop-up if you're not using Chrome).