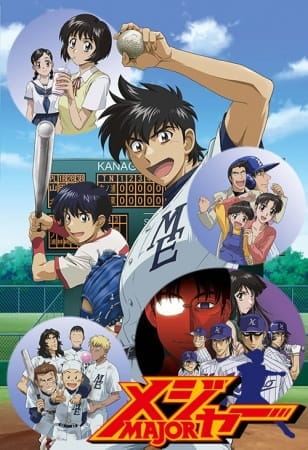 Aired: Dec 10, 2005 to Jun 10, 2006
Duration: 25 min. per ep.
Viewed: 31
Synonyms: Major S2
Gorou Honda has finally returned to Mifune East Junior High School, surprising his friends upon arrival. Now, Gorou is once again surrounded by those he holds closest, and he strives to continue playing and enjoying the game he loves most. However, things do not go as planned, as Gorou is reminded of the harsh realities of baseball as he copes with an injury he sustained while playing baseball at Hitaka Little. Between new rivals, old friends, and mending broken relationships, Gorou must overcome challenges he has never faced before. His goal of attending elite baseball high school Kaido may not be far from his reach, but complicated circumstances may stop him in his tracks once again. How will he deal with the immense pressures of the game? And will he ever be able to find the type of baseball he loves most? [Written by MAL Rewrite]
Satou, Toshiya

Main

Honda, Gorou

Main

Yakushiji

Supporting

Oikawa

Supporting

Toshiya's Grandmother

Supporting

Toshiya's Grandfather

Supporting

Shimada

Supporting

Shigeno, Shingo

Supporting

Shigeno, Hideki

Supporting

Sengoku, Masato

Supporting

Seki

Supporting

Sawamura, Ryouta

Supporting

Saotome, Shizuka

Supporting

Saotome, Takeshi

Supporting

Saotome, Taizo

Supporting

Sakuraba

Supporting

Saijou

Supporting

Oonuki, Akio

Supporting

Oobayashi, Masataka

Supporting

Yumi

Supporting
Because we are making use of some free resources to reduce the main server load, the player can be opened on another domain or showed as a new tab (you have to allow pop-up if you're not using Chrome).