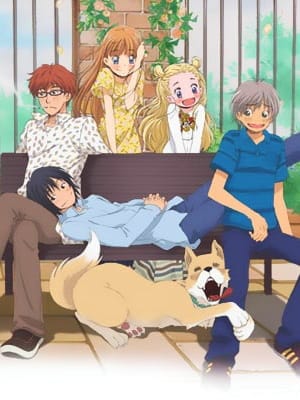 Aired: Jun 30, 2006 to Sep 15, 2006
Duration: 23 min. per ep.
Viewed: 3
Synonyms: Honey and Clover II, Honey and Clover 2, Honey & Clover II, ハチミツとクローバー II
Back from his journey across Japan, Yuuta Takemoto reminisces about his college life so far. He has matured significantly since his second year and is motivated to move forward. Feeling more confident than ever before, he finally confesses to Hagumi Hanamoto, the girl he has been in love with since their first encounter. However, Hagumi has been confused by her attempts to understand the mysterious Shinobu Morita. Hiding behind a playful demeanor, Morita may be the most burdened by his own potential. Meanwhile, Takumi Mayama has become a full-fledged working adult and has landed Ayumi Yamada several pottery orders through his company in an act of friendship. The five youths continue to face individual hardships in academics, work, love, and friendship as they push each other toward the paths that they are destined to walk. [Written by MAL Rewrite]
Hanamoto, Hagumi

Main

Mayama, Takumi

Main

Morita, Shinobu

Main

Takemoto, Yuuta

Main

Yamada, Ayumi

Main

Aida, Kazuo

Supporting

Carlos, Mac

Supporting

Emma

Supporting

Hanamoto, Shuuji

Supporting

Harada, Rika

Supporting

Leader

Supporting

Morita, Tsukasa

Supporting

Morita, Kaoru

Supporting

Negishi, Tatsuo

Supporting

Nomiya, Takumi

Supporting

Shin

Supporting

Shouda

Supporting

Takemoto, Mitsuko

Supporting

Teshigawara, Miwako

Supporting

Yamazaki, Kazushi

Supporting
Comming soon!!! But still, you're very handsome.
Please comment for requesting this anime.