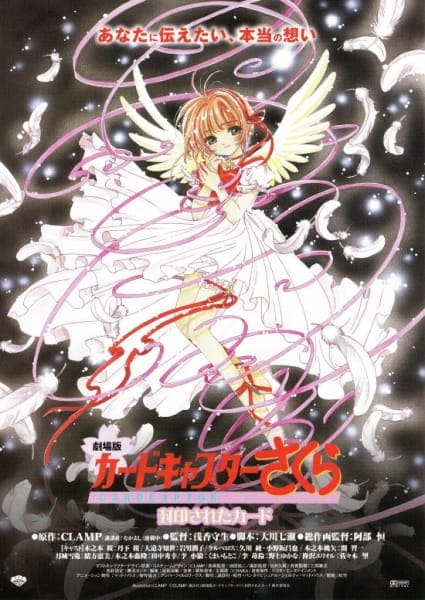 Aired: Jul 15, 2000
Duration: 1 hr. 22 min.
Viewed: 31
Synonyms: Cardcaptor Sakura: The Sealed Card
During the Summer holidays, Sakura and her class are preparing to present a play at the annual Nadeshiko Festival. The unexpected arrival of Syaoran (and Meiling) give Sakura the courage to finally reciprocate her feelings. But as the cards begin to disappear one by one, Sakura discovers a single card still remains. One with power equal to all hers... It is during this summer that Sakura faces her final battle.
Kinomoto, Sakura

Main

Li, Shaoran

Main

Keroberos

Main

Yue

Supporting

Yanagisawa, Naoko

Supporting

Yamazaki, Takashi

Supporting

Tsukishiro, Yukito

Supporting

Terada, Yoshiyuki

Supporting

Sasaki, Rika

Supporting

Nothing

Supporting

Mizuki, Kaho

Supporting

Mihara, Chiharu

Supporting

Matsumoto, Maki

Supporting

Li, Meiling

Supporting

Kinomoto, Fujitaka

Supporting

Kinomoto, Touya

Supporting

Hiiragizawa, Eriol

Supporting

Daidouji, Tomoyo

Supporting