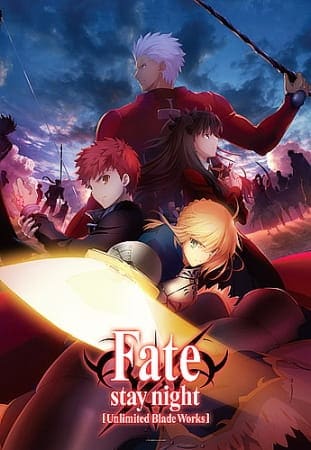 Aired: Oct 12, 2014 to Dec 28, 2014
Duration: 28 min. per ep.
Viewed: 77
Synonyms: Fate/Stay Night: Unlimited Blade Works
The Holy Grail War is a battle royale among seven magi who serve as Masters. Masters, through the use of the command seals they are given when they enter the war, command Heroic Spirits known as Servants to fight for them in battle. In the Fifth Holy Grail War, Rin Toosaka is among the magi entering the competition. With her Servant, Archer, she hopes to obtain the ultimate prize—the Holy Grail, a magical artifact capable of granting its wielder any wish. One of Rin's classmates, Emiya Shirou, accidentally enters the competition and ends up commanding a Servant of his own known as Saber. As they find themselves facing mutual enemies, Rin and Shirou decide to form a temporary alliance as they challenge their opponents in the Holy Grail War. [Written by MAL Rewrite]
Emiya, Shirou

Main

Saber

Main

Toosaka, Rin

Main

Archer

Main

von Einzbern, Illyasviel

Supporting

Sella

Supporting

Saegusa, Yukika

Supporting

Ryuudou, Issei

Supporting

Rider

Supporting

Mitsuzuri, Ayako

Supporting

Matou, Sakura

Supporting

Matou, Shinji

Supporting

Makidera, Kaede

Supporting

Leysritt

Supporting

Lancer

Supporting

Kuzuki, Souichirou

Supporting

Kotomine, Kirei

Supporting

Himuro, Kane

Supporting

Gilgamesh

Supporting

Fujimura, Taiga

Supporting
Because we are making use of some free resources to reduce the main server load, the player can be opened on another domain or showed as a new tab (you have to allow pop-up if you're not using Chrome).