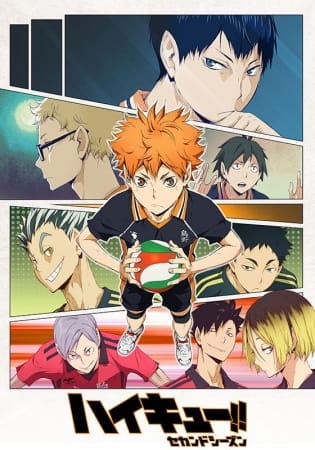 Aired: Oct 4, 2015 to Mar 27, 2016
Duration: 24 min. per ep.
Viewed: 128
Synonyms: Haikyu!! 2nd Season, Haikyuu!! Second Season, ハイキュー!! セカンドシーズン
Following their participation at the Inter-High, the Karasuno High School volleyball team attempts to refocus their efforts, aiming to conquer the Spring tournament instead. When they receive an invitation from long-standing rival Nekoma High, Karasuno agrees to take part in a large training camp alongside many notable volleyball teams in Tokyo and even some national level players. By playing with some of the toughest teams in Japan, they hope not only to sharpen their skills, but also come up with new attacks that would strengthen them. Moreover, Hinata and Kageyama attempt to devise a more powerful weapon, one that could possibly break the sturdiest of blocks. Facing what may be their last chance at victory before the senior players graduate, the members of Karasuno's volleyball team must learn to settle their differences and train harder than ever if they hope to overcome formidable opponents old and new—including their archrival Aoba Jousai and its world-class setter Tooru Oikawa. [Written by MAL Rewrite]
Hinata, Shouyou

Main

Kageyama, Tobio

Main

Irihata, Nobuteru

Supporting

Iwaizumi, Hajime

Supporting

Kai, Nobuyuki

Supporting

Kamasaki, Yasushi

Supporting

Karamatsu, Takumi

Supporting

Kawatabi, Shunki

Supporting

Kindaichi, Yuutarou

Supporting

Kinoshita, Hisashi

Supporting

Kiyoshi

Supporting

Koganegawa, Kanji

Supporting

Komaki, Yuzuru

Supporting

Komi, Haruki

Supporting

Konoha, Akinori

Supporting

Kozume, Kenma

Supporting

Kunimi, Akira

Supporting

Kuribayashi, Runa

Supporting

Kurokawa, Hiroki

Supporting

Kuroo, Tetsurou

Supporting
Comming soon!!! But still, you're very handsome.
Please comment for requesting this anime.