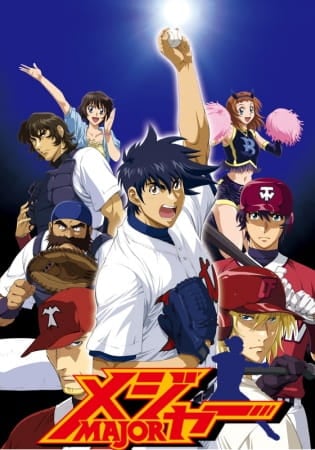 Aired: Jan 5, 2008 to Jun 28, 2008
Duration: 24 min. per ep.
Viewed: 24
Synonyms: Major 4th Season, Major 4, m4, メジャー (第4シリーズ)
Having finished high school, Gorou Honda sets his sights on becoming a professional baseball player. His dreams are much more ambitious than becoming a Japanese Baseball League player, so he instead decides to move to the birthplace of his beloved sport, America, in order to play in the Major League. However, Gorou finds that the Major League players are much faster, stronger, and more driven than he is. Nonetheless, he is eager to catch up with them. In order to do so, Gorou must first conquer the ranks of the Minor League, where numerous skilled players compete in the grueling rise to the Majors. Gorou joins the Memphis Bats and learns that he will have to adapt to the stark differences of American culture and push himself to new extremes as his race to join the Major League begins. [Written by MAL Rewrite]
Jinnai, Alice

Main

Sanders

Main

Honda, Gorou

Main

Oobayashi, Masataka

Supporting

Shimizu, Taiga

Supporting

Roy

Supporting

Rodman

Supporting

Peter

Supporting

Noguchi

Supporting

Nick

Supporting

Yoshitaka, Yamane

Supporting

Oikawa

Supporting

Sanchez, Hilbert

Supporting

Satou, Toshiya

Supporting

Scott

Supporting

Shibuya

Supporting

Shigeno, Hideki

Supporting

Shigeno, Chiharu

Supporting

Shigeno, Shingo

Supporting

Nakamura, Miho

Supporting
Comming soon!!! But still, you're very handsome.
Please comment for requesting this anime.