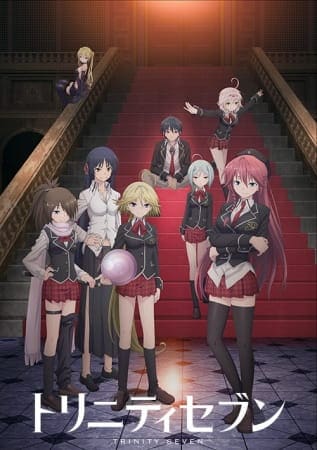 Aired: Oct 8, 2014 to Dec 24, 2014
Duration: 24 min. per ep.
Viewed: 1248
Synonyms: Trinity Seven
One day, the bright red sun stopped shining, causing the "Breakdown Phenomenon"—the destruction of Arata Kasuga's town and the disappearance of the people inhabiting it. All, however, is not yet lost; by utilizing the magical grimoire given to him by his childhood friend and cousin Hijiri Kasuga, Arata's world gets artificially reconstructed. In order to investigate the phenomenon, Lilith Asami appears before Arata, whose artificial world suddenly disintegrates. He is given two choices: hand over the book, or die. However, Arata chooses the third option—enrolling in the top-secret magic school Royal Biblia Academy, where six other magical users await him. Together with Lilith, these six form the Trinity Seven, the elite of the school who each bolster their own power and skill. With the ambition to save Hijiri and the help of his newfound friends, Arata stops at nothing to prevent the destruction of his beloved hometown and to bring his best friend back. [Written by MAL Rewrite]
Asami, Lilith

Main

Fudou, Akio

Main

Kannazuki, Arin

Main

Kasuga, Arata

Main

Kazama, Levi

Main

Kurata, Yui

Main

Sherlock, Lieselotte

Main

Yamana, Mira

Main

Biblia Gakuenchou

Supporting

Ilia

Supporting

Kasuga, Hijiri

Supporting

Lugh

Supporting

Master Liber

Supporting

Sherlock, Selina

Supporting

Sora

Supporting
Because we are making use of some free resources to reduce the main server load, the player can be opened on another domain or showed as a new tab (you have to allow pop-up if you're not using Chrome).