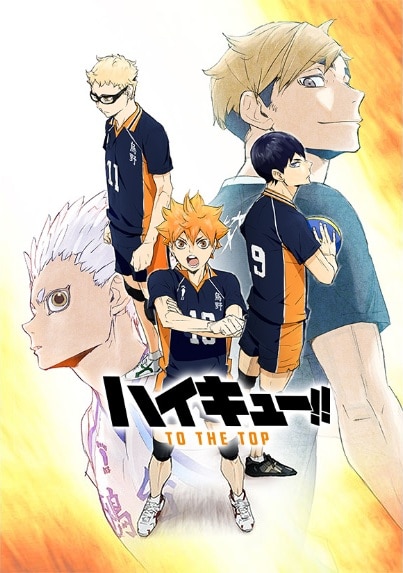 Aired: Jan 11, 2020 to Apr 4, 2020
Duration: 24 min. per ep.
Viewed: 20305
Synonyms: Haikyuu!!: To the Top
After their triumphant victory over Shiratorizawa Academy, the Karasuno High School volleyball team has earned their long-awaited ticket to nationals. As preparations begin, genius setter Tobio Kageyama is invited to the All-Japan Youth Training Camp to play alongside fellow nationally recognized players. Meanwhile, Kei Tsukishima is invited to a special rookie training camp for first-years within the Miyagi Prefecture. Not receiving any invitations himself, the enthusiastic Shouyou Hinata feels left behind. However, Hinata does not back down. Transforming his frustration into self-motivation, he boldly decides to sneak himself into the same rookie training camp as Tsukishima. Even though Hinata only lands himself a job as the ball boy, he comes to see this as a golden opportunity. He begins to not only reflect on his skills as a volleyball player but also analyze the plethora of information available on the court and how he can apply it. As the much-anticipated national tournament approaches, the members of Karasuno's volleyball team attempt to overcome their weak points and refine their skills, all while aiming for the top! [Written by MAL Rewrite]
Kageyama, Tobio

Main

Hinata, Shouyou

Main

Yamaguchi, Tadashi

Supporting

Yachi, Hitoka

Supporting

Washijou, Tanji

Supporting

Vice Principal

Supporting

Ushijima, Wakatoshi

Supporting

Ukai, Keishin

Supporting

Tsukishima, Kei

Supporting

Tendou, Satori

Supporting

Tanaka, Ryuunosuke

Supporting

Takinoue, Yuusuke

Supporting

Takeda, Ittetsu

Supporting

Sugawara, Koushi

Supporting

Semi, Eita

Supporting

Sawamura, Daichi

Supporting

Sakusa, Kyoomi

Supporting

Nishinoya, Yuu

Supporting

Miya, Atsumu

Supporting

Kunimi, Akira

Supporting
Because we are making use of some free resources to reduce the main server load, the player can be opened on another domain or showed as a new tab (you have to allow pop-up if you're not using Chrome).