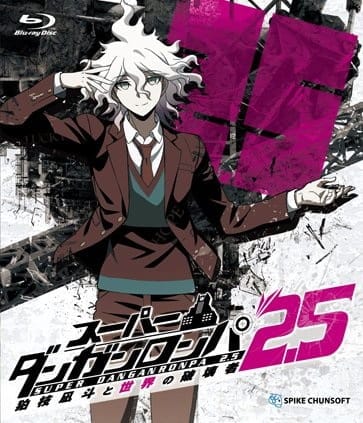 Aired: Jan 12, 2017
Duration: 25 min.
Viewed: 1418
Synonyms: Super Danganronpa 2.5: Komaeda Nagito to Sekai no Hakaimono
At Hope's Peak Academy, a school full of extraordinarily talented individuals, Nagito Komaeda is an ordinary boy with no special traits or interesting skills to speak of—except for his incredible unluckiness. Just walking to school in the morning leads to a number of unfortunate accidents, which only escalate as the day goes on. Despite this, Komaeda leads a relatively normal life and is satisfied with his modest slice of happiness. But everything changes when a mysterious boy who declares himself the "Destroyer of the World" arrives to shatter this hopeless paradise. [Written by MAL Rewrite]
Kamukura, Izuru

Main

Komaeda, Nagito

Main

Kuzuryuu, Fuyuhiko

Main

Hinata, Hajime

Main

Yukizome, Chisa

Supporting

Ultimate Imposter

Supporting

Tsumiki, Mikan

Supporting

Tengan, Kazuo

Supporting

Souda, Kazuichi

Supporting

Saionji, Hiyoko

Supporting

Pekoyama, Peko

Supporting

Owari, Akane

Supporting

Nevermind, Sonia

Supporting

Naegi, Makoto

Supporting

Mitarai, Ryouta

Supporting

Mioda, Ibuki

Supporting

Maizono, Sayaka

Supporting

Koizumi, Mahiru

Supporting

Kimura, Seiko

Supporting

Izayoi, Sounosuke

Supporting
Because we are making use of some free resources to reduce the main server load, the player can be opened on another domain or showed as a new tab (you have to allow pop-up if you're not using Chrome).