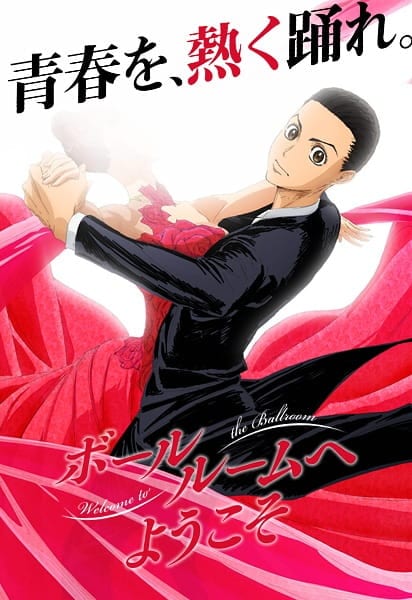 Aired: Jul 9, 2017 to Dec 17, 2017
Duration: 24 min. per ep.
Viewed: 66
Synonyms: Welcome to the Ballroom, ボールルームへようこそ
Tatara Fujita is a shy middle schooler who has no particular plan for the future. He has gotten through life by avoiding any kind of confrontation and blending in with the crowd. But blending in isn't enough to get out of trouble, as some bullies harass him for money. Luckily, he is saved by a man named Kaname Sengoku. Kaname invites Tatara to his dance studio. Although he would normally never set foot in such a place, Tatara is captivated by Sengoku's commanding presence. Granted an opportunity to dance with fellow classmate Shizuku Hanaoka—who often practices at the studio—Tatara realizes there's something about the idea of being put in the limelight and dancing where people will see him that keeps him coming back. With an earnest, passionate drive to improve, Tatara begins his journey into the world of competitive dance. [Written by MAL Rewrite]
Hanaoka, Shizuku

Main

Hiyama, Chinatsu

Main

Hyoudou, Kiyoharu

Main

Fujita, Tatara

Main

Tsuburaya, Tamaki

Supporting

Tomochika, Jinbo

Supporting

Sengoku, Kaname

Supporting

Mine, Gorou

Supporting

Kugimiya, Masami

Supporting

Koumoto, Akira

Supporting

Iwakuma, Yoshinori

Supporting

Idogawa, Tamie

Supporting

Hyoudou, Marisa

Supporting

Hongou, Chizuru

Supporting

Hanageishi, Tenpei

Supporting

Fujita, Tetsuo

Supporting

Banba, Karen

Supporting

Akagi, Mako

Supporting

Akagi, Gaju

Supporting
Comming soon!!! But still, you're very handsome.
Please comment for requesting this anime.