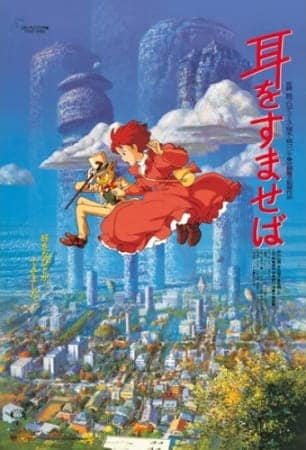 Aired: Jul 15, 1995
Duration: 1 hr. 51 min.
Viewed: 968
Synonyms: Whisper of the Heart
Shizuku Tsukishima is an energetic 14-year-old girl who enjoys reading and writing poetry in her free time. Glancing at the checkout cards of her books one evening, she notices that her library books are frequently checked out by a boy named Seiji Amasawa. Curiosity strikes Shizuku, and she decides to search for the boy who shares her love for literature. Meeting a peculiar cat on the train, Shizuku follows the animal and is eventually led to a quaint antique shop, where she learns about a cat statuette known as "The Baron." Taking an interest in the shop, she surprisingly finds Seiji, and the two quickly befriend one another. Shizuku learns while acquainting herself with Seiji that he has a dream that he would like to fulfill, causing her dismay as she remains uncertain of her future and has yet to recognize her talents. However, as her relationship with Seiji grows, Shizuku becomes determined to work toward a goal. Guided by the whispers of her heart and inspiration from The Baron, she resolves to carve out her own potential and dreams. [Written by MAL Rewrite]
Because we are making use of some free resources to reduce the main server load, the player can be opened on another domain or showed as a new tab (you have to allow pop-up if you're not using Chrome).