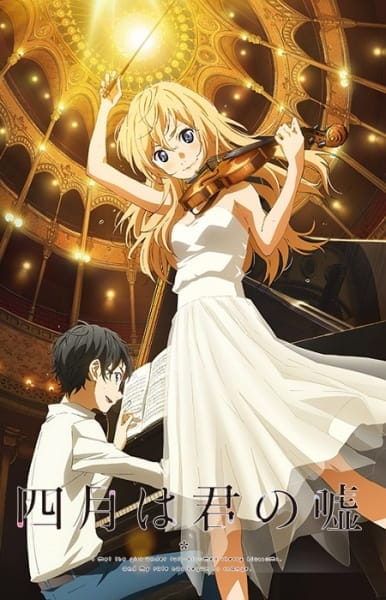 Aired: Oct 10, 2014 to Mar 20, 2015
Duration: 22 min. per ep.
Viewed: 353
Synonyms: Shigatsu wa Kimi no Uso
Music accompanies the path of the human metronome, the prodigious pianist Kousei Arima. But after the passing of his mother, Saki Arima, Kousei falls into a downward spiral, rendering him unable to hear the sound of his own piano. Two years later, Kousei still avoids the piano, leaving behind his admirers and rivals, and lives a colorless life alongside his friends Tsubaki Sawabe and Ryouta Watari. However, everything changes when he meets a beautiful violinist, Kaori Miyazono, who stirs up his world and sets him on a journey to face music again. Based on the manga series of the same name, Shigatsu wa Kimi no Uso approaches the story of Kousei's recovery as he discovers that music is more than playing each note perfectly, and a single melody can bring in the fresh spring air of April. [Written by MAL Rewrite]
Miyazono, Kaori

Main

Sawabe, Tsubaki

Main

Watari, Ryouta

Main

Arima, Kousei

Main

Megu

Supporting

Takayanagi, Akira

Supporting

Miike, Toshiya

Supporting

Miyazono, Ryouko

Supporting

Miyazono, Yoshiyuki

Supporting

Nashida, Teacher

Supporting

Nashida

Supporting

Ochiai, Yuriko

Supporting

Oka, Kousuke

Supporting

Saitou

Supporting

Satsuki

Supporting

Sawabe, Mother

Supporting

Seto, Hiroko

Supporting

Seto, Koharu

Supporting

Komugi

Supporting

Keiko

Supporting
Because we are making use of some free resources to reduce the main server load, the player can be opened on another domain or showed as a new tab (you have to allow pop-up if you're not using Chrome).