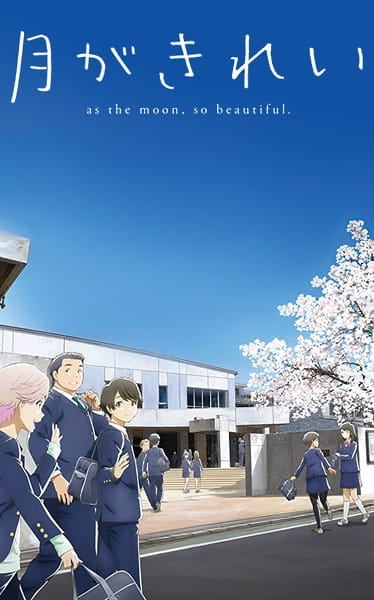 Aired: Apr 7, 2017 to Jun 30, 2017
Duration: 24 min. per ep.
Viewed: 1713
Synonyms: Tsuki ga Kirei
With a new school year comes a new crowd of classmates, and for their final year of junior high, aspiring writer Kotarou Azumi and track team member Akane Mizuno end up in the same class. Though initially complete strangers, a few chance encounters stir an innocent desire within their hearts. A yearning gaze, a fluttering heart—the hallmarks of young love slip into their lives as fate brings their paths to a cross. However, though love is patient and love is kind, Kotarou and Akane discover it is not always straightforward. Despite the comfort they find in each other's company, heartache and anxiety come hand in hand with pursuing the feelings in their hearts. With the uncertainty of how the other truly feels as well as the competing affections of those around them, the road ahead is unclear. Even so, under the shining light of a beautiful full moon, Kotarou gathers his courage to ask Akane a single question, one that forever changes their quiet relationship. [Written by MAL Rewrite]
Hira, Takumi

Main

Mizuno, Akane

Main

Nishio, Chinatsu

Main

Azumi, Kotarou

Main

Yamashina, Roman

Supporting

Tanaka, Sakura

Supporting

Takizawa, Aoi

Supporting

Tachibana, Daisuke

Supporting

Sonoda, Ryouko

Supporting

Satou, Setsuko

Supporting

Ogasawara, Daichi

Supporting

Nagahara, Shou

Supporting

Mizuno, Hiroshi

Supporting

Mizuno, Ayane

Supporting

Mizuno, Saori

Supporting

Miyamoto, Aira

Supporting

Kaneko, Tsubasa

Supporting

Inaba, Yasuhito

Supporting

Imazu, Miu

Supporting

Azumi, Ryuunosuke

Supporting
Because we are making use of some free resources to reduce the main server load, the player can be opened on another domain or showed as a new tab (you have to allow pop-up if you're not using Chrome).