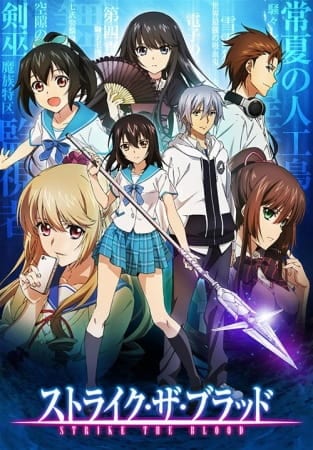 Aired: Oct 4, 2013 to Mar 28, 2014
Duration: 24 min. per ep.
Viewed: 1218
Synonyms: Strike the Blood
Kojou Akatsuki's days as an ordinary high school student in the Demon District of Itogami Island come to an abrupt end after a fateful encounter leaves him with the remarkable abilities of a vampire. It isn't long before he is thrust into the center of attention when it is discovered that he is the fourth primogenitor, an immensely powerful vampire whom most consider to be merely a legend. Fearing Kojou's destructive potential, the Lion King Organization sends in an apprentice sword-shaman, Yukina Himeragi, to monitor, and should he become a threat, kill the boy deemed the world's most powerful vampire. Forced together by circumstance, the two form an unlikely alliance as Kojou comes to terms with his abilities and they both struggle to protect the city from various emerging chaotic forces. [Written by MAL Rewrite]
Akatsuki, Kojou

Main

Himeragi, Yukina

Main

Aiba, Asagi

Main

Koshima, Sakura

Supporting

Yaze, Motoki

Supporting

Lydianne, Didier

Supporting

Meyer, Octavia

Supporting

Meyer, Emma

Supporting

Minamiya, Natsuki

Supporting

Mogwai

Supporting

Paper Noise

Supporting

Rihavein, La Folia

Supporting

Sasasaki, Misaki

Supporting

Shindou, Minami

Supporting

Tanahara, Yuuho

Supporting

Tokoyogi, Aya

Supporting

Tokoyogi, Yuuma

Supporting

Tsukishima, Rin

Supporting

Uchida, Ryou

Supporting

Vatler, Dimitrie

Supporting
Because we are making use of some free resources to reduce the main server load, the player can be opened on another domain or showed as a new tab (you have to allow pop-up if you're not using Chrome).