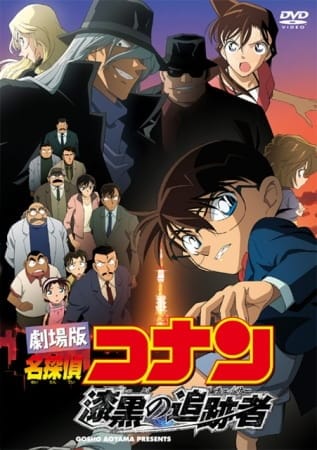 Aired: Apr 18, 2009
Duration: 1 hr. 51 min.
Viewed: 17
Synonyms: Detective Conan Movie 13 - The Raven Chaser
Kudou Shinichi is living his life as Edogawa Conan, but those days seem like they might end pretty soon. The Black Syndicate is coming dangerously close to learning the truth about Shinichi having survived. Conan and everybody around him may end up dead if he doesn't manage to find Irish—a member of the Black Organization who has infiltrated the police forces, currently investigating a big serial murder case.
Mouri, Ran

Main

Mouri, Kogorou

Main

Edogawa, Conan

Main

Ryuuzaki, Tsutomu

Supporting

Yoshii, Risa

Supporting

Satou, Miwako

Supporting

Sawamura, Shun

Supporting

Shiratori, Ninzaburou

Supporting

Suzuki, Sonoko

Supporting

Takagi, Wataru

Supporting

Tooyama, Kazuha

Supporting

Tsuburaya, Mitsuhiko

Supporting

Uehara, Yui

Supporting

Vermouth

Supporting

Vodka

Supporting

Yamamura, Misao

Supporting

Yamato, Kansuke

Supporting

Yokomizo, Sango

Supporting

Yokomizo, Juugo

Supporting

Yoshida, Ayumi

Supporting
Because we are making use of some free resources to reduce the main server load, the player can be opened on another domain or showed as a new tab (you have to allow pop-up if you're not using Chrome).